Charlie Abrams, Senior Solutions Consultant
High tech and Semiconductor teams across the world are having to make quicker, more effective decisions to respond to changes across complex ecosystems. The channel ecosystem is unique to each customer and is constantly changing. Teams need intelligent insights across multiple data sets quickly and effectively.
Think back to the last request you had from a team member or peer, asking for data reporting. Often it is simple insights based on their business role to drive top-line growth. These are often short, quick reports for the channel, finance, and sales teams that are key to ensuring the forecast for the quarter is crystal clear. Customers rely on effective tools to report out this information, but the data sources must be accurate and purpose-built for the task at hand.
In a recent post Winning In The Channel Requires Data-Driven Program Innovation by Jay McBain, Principal Analyst at Forrester he shared, "Our research found that the effective use of real-time channel data improves a vendor's speed-to-market, provides actionable insights for making in-flight adjustments, develops a new level of location intelligence to better understand their customers, opens up data accessibility to reduce payment errors, and helps quantify the return on invested capital (ROIC) in the channel."
I'd like to highlight some key insights providing improvements to what Jay shares. First, having a channel data solution with prescriptive intelligence ensures that indirect partner value is immediately realized through additional enrichment in addition to simple data processing. Second, whether it is an upselling opportunity to a customer's suite of products, new product introduction, or specific end customer details like segment and industry, data-driven solutions benefit those customers who drive business decisions based on these types of data insights. Third, having timely data across distributors, resellers and other value-added partners ensure teams can make in-flight adjustments to areas like stock levels to support demand, target incentives to drive adoption, and validate key data points for accurate payments to partners.
As the world continues to change, customers with indirect channels rely heavily on point-of-sale and inventory reporting from their channel partners, as well as consistent reporting and analytics to provide these types of reports for downstream teams. Not only do teams rely on insights across their business for sales growth, but companies are continuing to invest in partners as a key part of their go-to-market strategies.
Working collaboratively with partners to increase data quality, having easy to use tools and processes, and beneficial partner programs are all ways that companies are continuing to build these relationships. Real-time data insights empower conversations around performance, quality, benefits, and incentives with partners and drive revenue. These conversations support true business planning with partners capturing their return on investment and ensure their indirect channel investment.
According to Forrester, "73% of marketers consider managing partners a major challenge. Jay adds, "We know that channel pros have a difficult time extracting themselves from their "day jobs." With the average partner program having 90 components, combined with putting out fires hour-by-hour, an all-encompassing channel data strategy may fall to the bottom of the pile."
Channel data insights should come first – organically through a solution that is managing the data quality end to end.
Accurate, reliable data is key for this process to run smoothly. Teams across the globe have already built or purchased tools to help analyze this data, but often lack the flexibility to enable these solutions to bring value to the organization. Having a solution that can bring data to the forefront, ensures that downstream business users have purpose-built reports for their team's success.
Let's look at an example of how Model N's Intelligence Cloud platform powered by Channel Data Management uses insights to help channel teams realize growth.
The Growth Performance Dashboard gives users insights into growth across several measurements within their channel point-of-sale data. In this example, teams can identify key growth areas and lagging areas in the business based on segment, product attributes, and customers.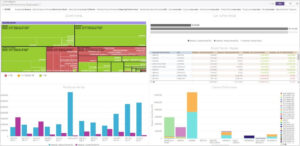 In addition to key insights driven by prescriptive intelligence, Model N uses a combination of algorithms and machine learning (ML) to handle the variations across customer data received through indirect partners. Model N uses these variations to teach our system how to handle these name and address variations through automation, rather than manual intervention. High Tech and Semiconductor teams can benefit from quickly responding to changing data conditions through a flexible solution that can handle these variations to scale.
To learn more best practices for your channel network, click here.