Global Tender Management
Utilizing Technology to Drive Innovation with GTM
Although specialty medicines are priced to reflect its rapid advancement and complexity and now make up 35% of the US market, payers apply pressure to lower those costs by utilizing tenders, which require proactive management and global visibility. With GTM, manufacturers are able to increase sales by planning and prioritizing efforts around the most critical identified opportunities of the more than 125,000 Pharma tenders that were published in 2017.
Additionally, recent advancements in medical technologies are giving payers more choice and are driving down prices for innovative solutions, leaving MedTech manufacturers to take advantage of tender solutions, which can maximize the top line of their income statements. GTM enables manufacturers to shape bids based on pre-simulated MEAT and competitive data, as 58% of tender professionals report partnering with a tendering authority as the key to winning. MedTech derived 85% of revenue from tenders and with over 180,000 MedTech tenders published in 2017, having global visibility increases opportunity to grow market share.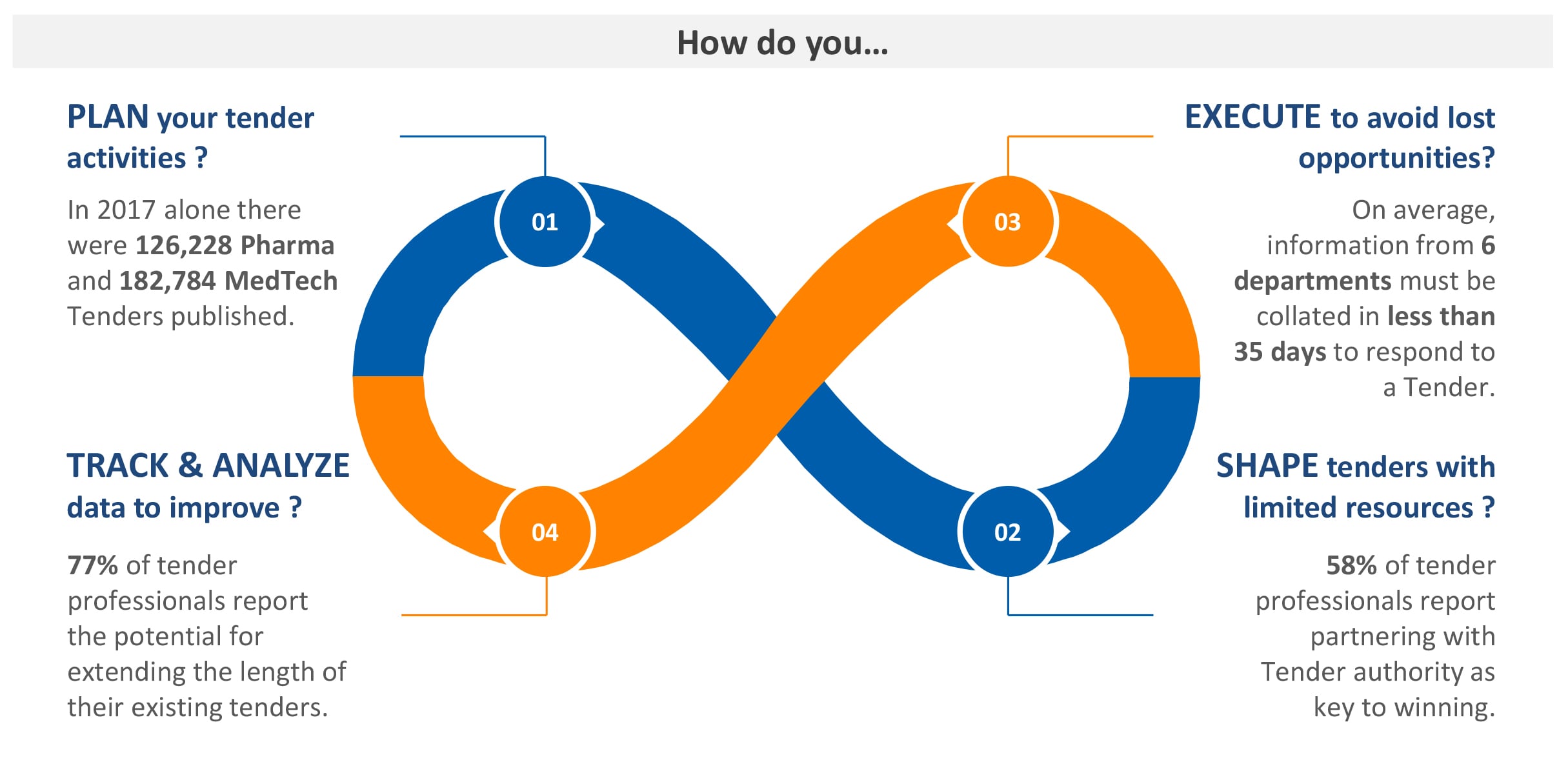 Challenge
While 25% of Pharma and 85% of MedTech revenue comes from tenders, three major challenges impede the ability to maximize on that revenue:
Tender Length—Nearly half the time (47%), the lack of proactive management of a tender may result in being locked out of a related market for at least 12 months
Increased Legislation Standards—Tender authorities continue to consolidate, create, and increase new legislations and specification standards, leading to amplified negotiation power over manufacturers
Decreased Final Prices—As a result, products undergoing tendering often end up with final prices that are 50% or more below their original price
In order to properly assess your tendering process capabilities, you must ask:
How do you plan your tender activities?
How do you shape tenders with limited resources?
How do you execute to avoid losing bids?
How do you track and analyze the data?
The Model N Global Tender Management Solution is the answer.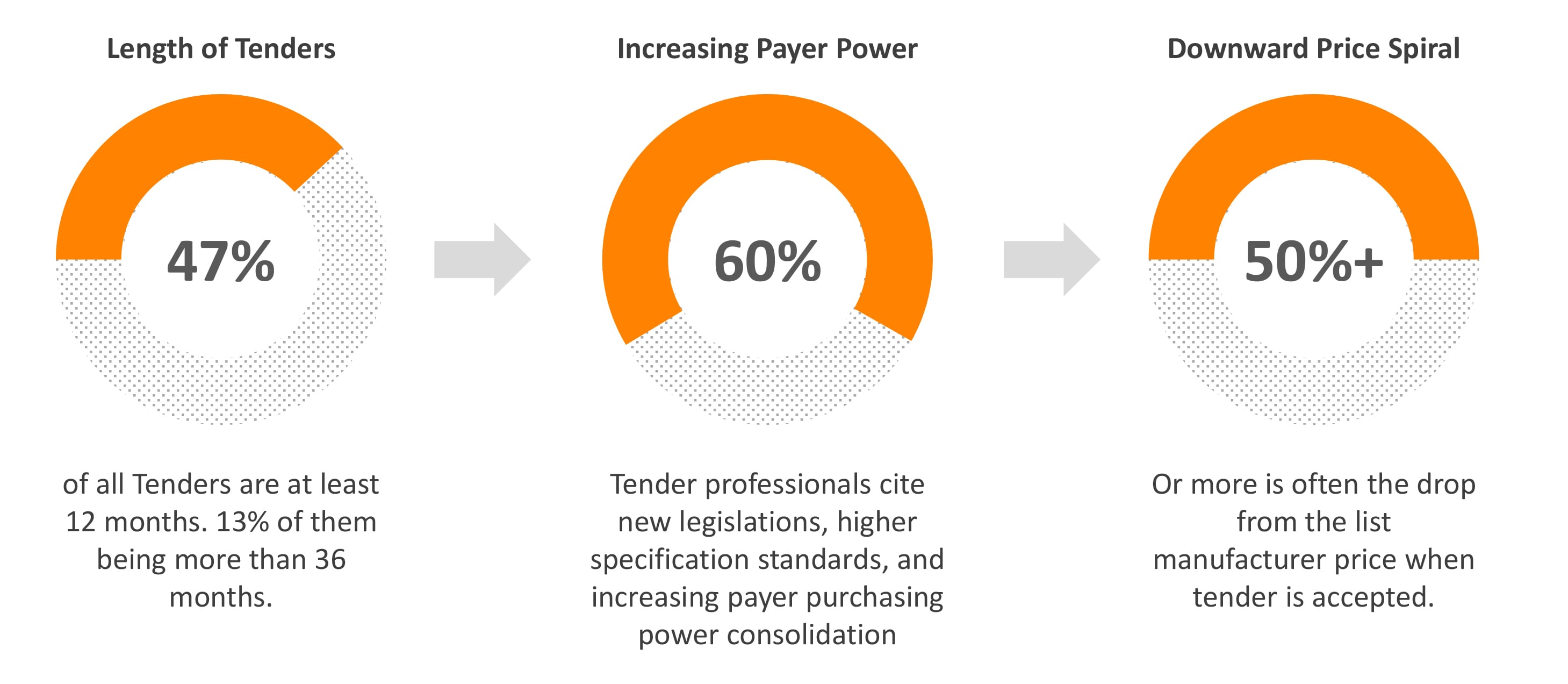 Features
With the RMaaS delivery model, GTM features are continuously being introduced and enhanced to ensure customers can focus on delivering value while incorporating feedback from our customer advisory board to advance best practices. Here are just a few key features of GTM:
Pre-built processes and approval flows optimized for MedTech companies
Guided offer configuration and product matching
Most economically advantageous tender (MEAT) scoring and weighted pricing
Collaboration features for teams operating across countries, regions or globally
Integrated document management, eSignature and eSubmission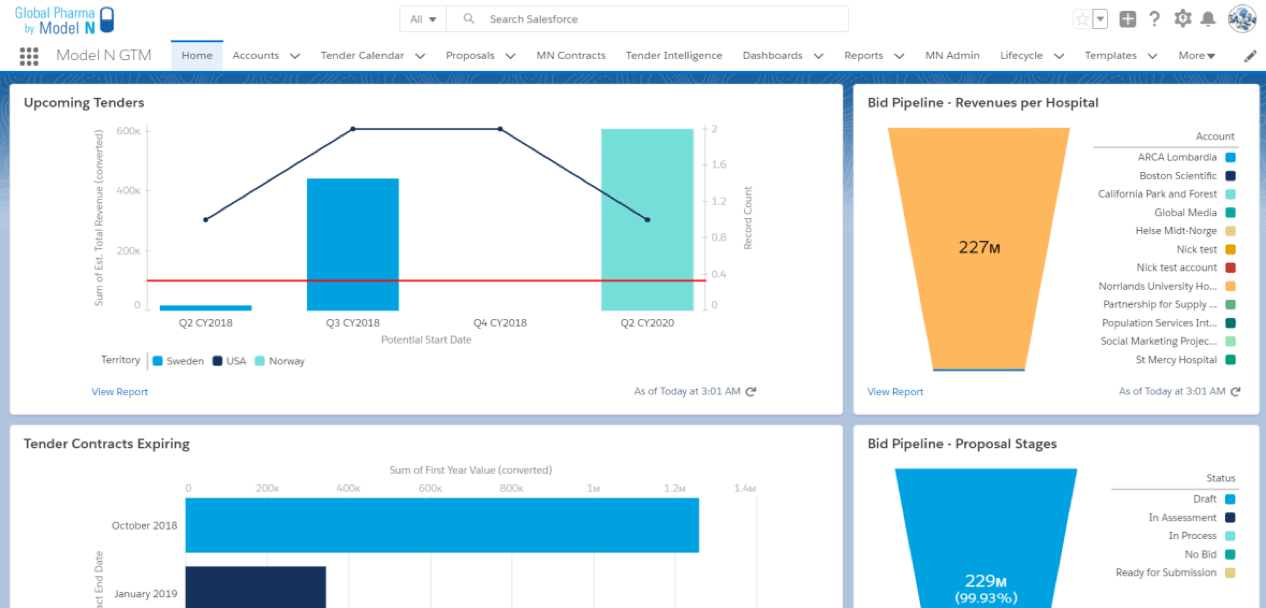 Benefits
Though just one component of commercial strategy, GTM provides important benefits for life sciences manufacturers. Customers can expect to receive significant value by experiencing these benefits, among others:
Increase sales by prioritizing the best opportunities and aligning teams and tasks
Improve margins by winning more bids at better prices with account, competitor and deal analytics
Reduce the risk of non-compliance, disqualification or future penalties by improving the collaboration between internal stakeholders
Optimize the lifetime value of contracts by tracking compliance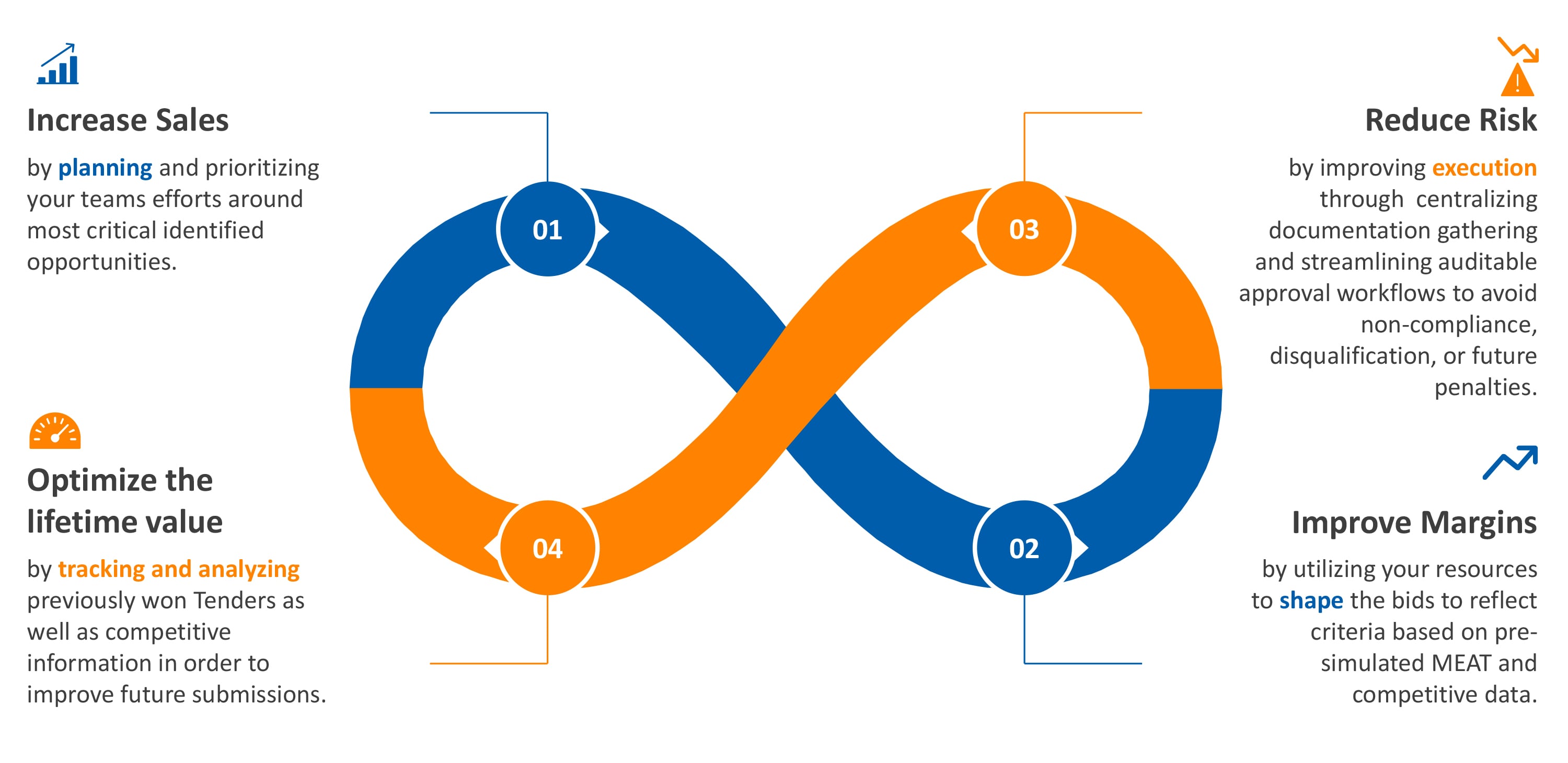 Solution
Maximize Revenue and Minimize Risk with Model N Global Tender Management Solution
With tender management, drive better controls and gain deeper insights while delivering value to local affiliates by streamlining the bidding process, promoting cross-functional collaboration, and providing tender analytics.
Increase revenues by planning and prioritizing your team's efforts around the most critical of identified tender bids. We automate the vast majority of the manual processes necessary to sift through bids, enabling your team to focus on value added activities, such as analysis.
Improve margins by utilizing your resources to shape the bids that reflect the criteria based on pre-simulated MEAT and competitive data. Our system allows you to gather all information, internal as well as competitive, and to simulate various scenarios based on multiple criteria beyond pricing to arrive on the most profitable tender offer.
Reduce risk by improving execution through centralizing documentation gathering and streamlining auditable approval workflows to avoid non-compliance, disqualification, or future penalties. Our solution serves as a central repository for all employees, thereby improving collaboration and allowing continuous internal best practice development.
Optimize the lifetime value by tracking and analyzing previously won tenders in order to improve future submissions. Increase your chances of winning by analyzing all competitive information in the context of your product, accessible to track and store in the central repository.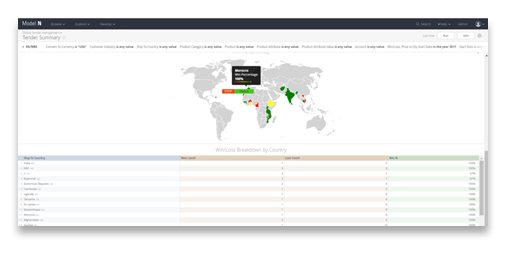 "Model N is customer focused, they are passionate about what they do, they like to think forward about possible future solutions, and they have provided excellent service."
Madalina Preda
Global Pricing Manager, Corning Life Sciences
GTM Intelligence
Global Tender Management (GTM) Intelligence allows pharma companies to view the success rates of their bids vis-a-vis their pricing strategy. Companies can view the tender management process performance globally and identify problem competitive areas where they need to focus on.
X-Data
Extend Model N GTM with Microsoft Excel to enable data manipulation, modeling and offline use. Use Excel's easy spreadsheet format, while ensuring Revenue Cloud security and user controls are still enforced.
Intelligent Approvals
Simplify and speed up approvals for even the most complex tenders and contracts by leveraging system intelligence to accelerate workflow, automate routing, enable line level approvals and provide real-time visibility into status.