Channel Data Management
The Power To Do More in Your Sales Channel
Model N's Channel Data Management solution provides manufacturers with visibility into every facet of their channel including distributors, resellers, ODMs, OEMs, and end-customers. Utilizing cloud-based technology and automation, organizations have near real-time insights to anticipate shifts in channel business and ever-changing global markets.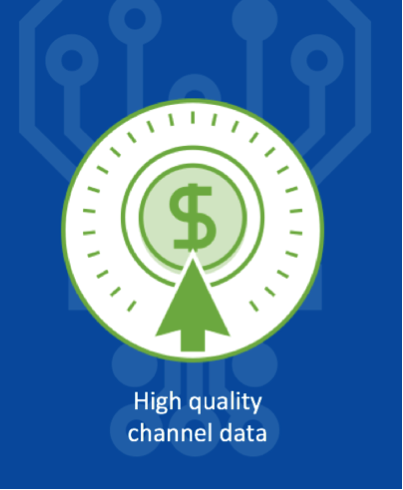 CDM Validates Bottom Line Impact
Model N CDM offers the industries most automated process in organizing, standardizing, validating and enriching your channel data. With CDM you can:
Maximize channel revenue by gaining real-time visibility and granularity into channel sales and inventory.
Create better alignment between marketing, channels and end customers.
Decrease operational costs for partner management by up to 70%
Spot sales and marketing trends and anomalies across regions, territories, and accounts.
Features
CDM allows you to reap the benefits of accurate, consistent and actionable channel data. The CDM solution is an easy to implement and scalable option. It is a cloud solution that helps you protect your investment by avoiding upfront hardware and license costs, and reduces the demand on already stretched internal resources. CDM also provides:
Timely, consistent, accurate automated channel data with limited human intervention
Streamlined, efficient, easy to do business with channel partner onboarding process
Unrivaled and state-of-the-art, patented data cleansing, matching, validation, and data enrichment
Actionable channel insights delivered via modern analytics and dashboards to evaluate channel performance
"We now have an effective and measurable way to manage the channel. Model N's CDM solution made us much more proactive in our approach to working with our partners."
Ron Ryan
Senior Vice President, Global Channels and Operations, Cambium Networks
"Model N helps us manage our global channel so we can drive more revenue."
Senior Manager, Worldwide Channel Management, AMD
"Model N brings a systematic approach to the commission process. In the past everything was calculated manually. We would transfer the data to our Controller, but the Controller had no tool to check the data. Today every transaction is accurate and it's easy for the Controller to do an audit."
Heribert Hochrinner
Global Channel Partner Manager, Ams AG
"We've seen a big increase in the timeliness and quality of data from Model N. We've been able to shorten our calculation times on many of our financial requirements, and our executives are much happier with the decisions provided from the data."
Jeff Penner
Business Intelligence Manager, Enphase Energy
Rebate Management enables organizations like yours to easily create and implement effective rebate programs to reduce upfront discounts, mask end-user pricing and increase bottom line. Rebate Management is ideal for companies such as High Tech manufacturers, original equipment manufacturers (OEMs), industrial manufacturers, and wholesale distributors selling a broad and complex catalog of products directly to customers and through channel partners.
Market Development Fund Management
Marketing Development Fund Management (MDF) provides your organization with the flexibility to track proof of execution, manage channel self-service plans and claims, and generate timely payments. The end-to-end process gives you maximum control of profitability for all your MDF and Co-Op investments. Model N MDF makes it easy for you to do business with your channel partners and align your goals with manufacturer objectives.
Channel Cloud provides unique channel management solutions for your industry. Receive high-quality channel data and see accurate near real-time pictures of channel sales including POS and inventory. With Channel Cloud, you will be able to manage incentives and Marketing Development Fund (MDF) programs increasing channel engagement and actual results while eliminating overpayments. Also, you can manage channel inventory accurately, from registrations and ship and debit to price protection.