Enable continuous growth in all channels
Successful commercialization requires an end-to-end strategy that maximizes revenue by eliminating revenue leakage and compliance risk while enabling continuous profitable growth in all channels.
Model N Revenue Cloud for MedTech helps medical technology and product companies maximize revenue at every point in the commercialization process specifically by:
Enabling field sales to win, and retain over time, more profitable bids and tenders
Ending revenue leakage in distributor and provider contract pricing and rebating processes
Facilitating timely and accurate data exchange between providers, distributors, and manufacturers using HIDA best practices and specifications
Ensuring full auditability and strict adherence to government regulations
Enabling detailed visibility into gross-to-net across all channels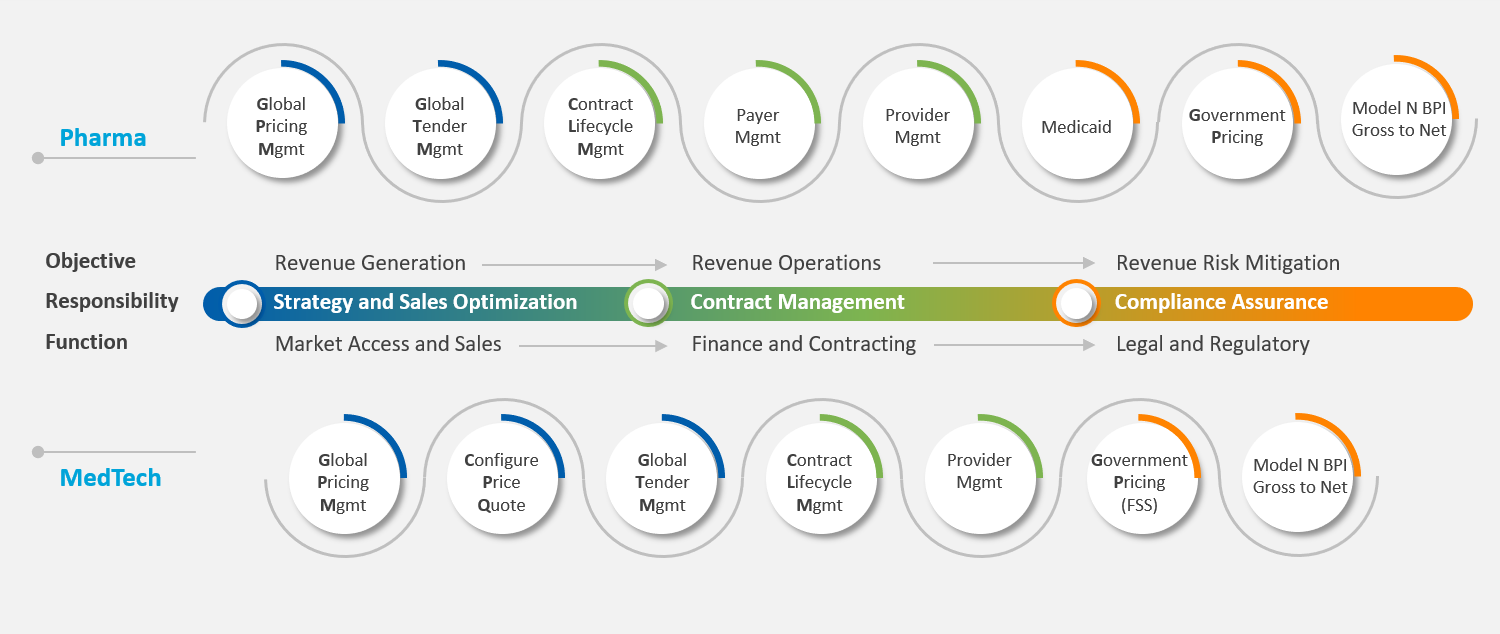 Product Solutions for Medical Technologies
Contract Lifecycle Management
Maximizes revenue by shortening the sales-to-contract lifecycle while significantly reducing risk in commercial audits.
Global Tender Management
Maximizes revenue by optimizing bids and streamlining their governance while providing competitive and account insights.
Global Pricing Management
Maximizes revenue by enabling users to optimize and protect prices globally throughout the entire cycle of the product.
Provider Management
Maximizes revenue by reducing revenue leakage and risk of non-compliance throughout the institutional contracting process.
Model N BPI Gross to Net
Model N BPI Gross to Net combines Model N's trusted transaction data sets with BPI Technologies' sophisticated gross-to-net revenue recognition tools, enabling manufacturers to achieve complete gross-to-net visibility in near-real-time at every step of the revenue lifecycle.
We Create Value for Our Customers

As the leader in Revenue Management, we serve 90+ Life Sciences customers with our innovation, collaboration, and expertise to ensure we're providing high performance and up-to-date products. With over 900 employees across 11 global locations, we leverage our expertise to enhance the traditional cloud offering with Revenue Management as a Service (RMaaS), our SaaS delivery model, which provides our customers with the ability to focus on their business growth and innovation, while benefiting from a lower, predictable total cost of ownership.
"We recently had an acquisition and that has now put us in the multi-billion dollar category, [and having] the availability of the data all in one place has really opened the company's commercial contracting eyes… [Revenue Cloud] is giving the business a way to negotiate properly with their customers and I think that's probably one of the biggest benefits."
Cheryl Luchento
Project Manager, Integra Life Sciences