Most medtech salespeople take it for granted that once a deal gets inked, they lose sight of it in the system. It's always been this way. If you have a question about a particular deal – say a customer asks you how much more product they must sell before their rebate kicks in – you must email John in commercial operations. Perhaps you'll get your answer four or five days later. Or it might take John even longer because he depends on the backend ERP system and other operations people to fulfill his request. Although John may release a standard report of deal status every month – or even every week, if you're lucky – that doesn't help you answer customers' ad-hoc requests.
But just because you've grown accustomed to this way of working doesn't mean your customers have. When customers ask for the status of a contract, whether they will earn their rebates or validation around pricing inconsistencies, sales reps shouldn't be forced to say, "I'll have to find that out for you." When you do that, customers are not pleased. In worst-case scenarios, a customer who has been put off too many times or one that made a costly error because the correct data is not available may leave you for another supplier. Fierce competition in medtech and winning can hinge on having immediate access to deal data.
So, what can be done to remedy this painful, all-too-familiar scenario? The answer is surprisingly simple: Introducing a deal management technology to plug the gap between your CRM and ERP systems will work wonders.
In this blog, we'll explain how leveraging a deal management solution allows you to immediately access the deal data you need. Not only will you deliver a stellar customer experience, but you'll also enrich your Salesforce CRM system with more meaningful data, close deals faster by automating the offer-to-contract creation process, and have proactive dialogues with your customers about incentives and rebates ahead of important deadlines.
Bridge the gap
Most medtech companies have CRM and ERP systems in place. But they are missing a critical middle piece – the deal management functionality that bridges the gap between CRM and ERP. Some manually enter data and email Excel spreadsheets back and forth, while others have homegrown code that helps automate some deal activities, but not all. And deal management falls into a hole.
This raises three challenges for medtech firms:
Over-reliance on the commercial operations team for manual customer data extraction and analysis
Slow turnaround for contact preparation and activation
Lack of visibility into pricing to address customer inquiries about discrepancies
A key contributor to the problem is that deal data information is split between back-office and front-office system functions. To keep customers informed, salespeople using the CRM system (front office) need to get data from the (back-office) ERP system. This is surprisingly difficult and requires special queries and manual data extraction. Back-office operations and support teams must figure out how to balance salesperson requests for information and their back-office responsibilities. Whereas salespeople need visibility and access to data for their territory to satisfy customer requests in a timely fashion, operations and support teams need to ensure that the back-office systems are kept up to date with accurate, clean data.
The big three applications of deal management
Let's look at the applications needed to effectively manage deals: CRM, ERP, and revenue management.
CRM
The first application is customer relationship management (CRM), which the sales team uses to track all their customer-related activities and manage their customer accounts and opportunities. CRM applications like Salesforce take care of sales management (accounts, opportunities, process automation, collaboration/chatter, and reporting); service management (operational visibility, appointment management, workforce allocation); tender management (configure price quote). Most CRM solutions have dashboards so sales reps can see what they and others have entered about an account or an opportunity.
ERP
Enterprise resource planning (ERP) is a software used to manage day-to-day back-office business activities. Accounting, HR, payroll, procurement, and supply chain activities are typically tracked, transacted, and reported on by the ERP system. By integrating multiple business processes and collecting data from various sources, ERP systems provide businesses with the ever-sought-after "single source of truth."
Revenue management
Revenue management software is used to manage pricing, contracts, membership, chargebacks, rebates, fees, and accruals. Its role in the deal lifecycle is to ensure that pricing and calculations of deals are accurate. It is the point of connection to the back office and the ERP system.
How deal management completes the picture
Deal management acts as the glue between your revenue management and CRM systems. A leading deal management application seamlessly integrates with any CRM platform and effortlessly interacts with your revenue management system. This system enables the commercial operations teams to execute the contract price orders and invoices and monitor compliance, as well as pay rebates, generate accruals, and manage chargebacks (see diagram below).
The revenue management system, in turn, communicates with back-office operations through the ERP system. The ERP software intakes orders, invoices, billing, processing, payments, debits, and credits and ultimately rolls into the profit-and-loss balance sheet in other financial systems that automate processes critical to the business.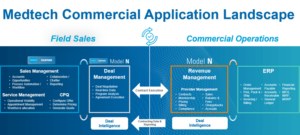 Why you need a deal management system:
Give customers the transparency into deals they increasingly demand, answering any questions instantly in a way that would be impossible with siloed operations and manual spreadsheets
Identify the right price for the right product at the right time with complete visibility into customer memberships, pricing tiers, and past performance
Access real-time intelligence to drive the best deals that align with pricing and portfolio strategies
From deal management, you get deal intelligence that drives improved account performance, giving sales reps the ability to answer questions like, "What are the current and projected sales trends for my customers?" It also tracks all pricing in the catalog, so you know how much each customer pays for each product. Finally, it tracks compliance, so you know how your customers perform against their contractual commitments.
Dashboards – typically found in the CRM system in the front office – are also a big part of a leading deal management system, providing you with actionable insights by exposing valuable revenue management data from the back office.
The benefits of Model N's Deal Management application
The Model N Deal Management solution is the first application to efficiently align sales and operations teams – specifically for medtech companies.
Among other things, you get:
Enhanced collaboration: Connect the front and back offices to link every aspect of commercial transactions across channels.
Increased visibility: Gain insight into every transaction, approval, outcome, and downstream impact.
Reduced risk: Ensure every customer gets the right price every time.
Greater efficiency: Enable consistency, compliance, and accuracy across all your contracting and tender management processes.
Model N Deal Management speeds up the contract creation process, providing the ability to manage the terms and conditions, pricing, and rebates into the system in a much more streamlined way. The operations team gets all the data it needs, and the sales teams have real-time dashboards at their disposal, providing actionable insights that were previously locked away in the back-end systems. Deal Management is an all-around winner when done right.
Discover how automation technologies, including deal management solutions, have delivered operational successes for Integra Life Sciences in this fireside chat with Fierce Medtech and Model N. Discover the possibilities.
# # #