Global Pricing Management
Gaining Global Visibility with GPM
Pharma manufacturers face a number of revenue growth drivers, such as the unprecedented average of 45 launches per year (55 in 2017), the 3.5% global population growth, and the emphasis into specialized products to treat orphan indications. Price erosion is inevitable with International Reference Pricing (IRP) because 31% of countries globally utilize it solely for price decision making. With many global market access challenges, manufacturers can rely on GPM to optimize 100% of global revenue, continuously adjust throughout the entire products' lifecycle, and increase the speed of information exchange.
GPM for MedTech enables customers to easily adapt to market access fluctuations by providing a single system of record to track events and prices globally. By unifying all divisions and providing global visibility into accurate internal and competitors' prices, customers can improve their operational performance and seize control of information while enabling access anytime and anywhere.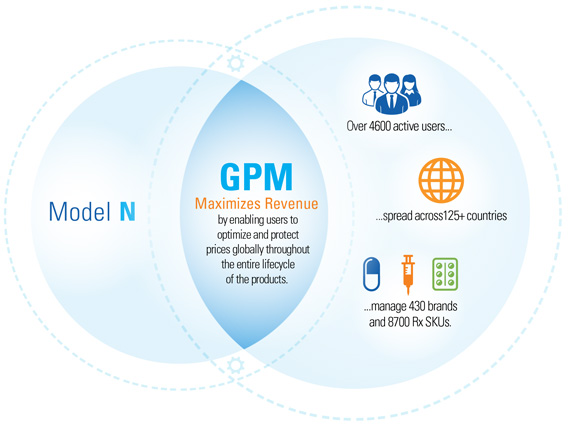 Features
With the RMaaS delivery model, GPM features are continuously being introduced and enhanced to ensure customers can focus on delivering value while incorporating feedback from our customer advisory board to advance best practices. Here are just a few key features of GPMt:
In-built IRP simulation and price controls
Event calendar and validated data
Launch sequence optimization and tracking
Price and sales forecasting
One GP&MA system for all and linked to all
100% accurate and validated price and reimbursement database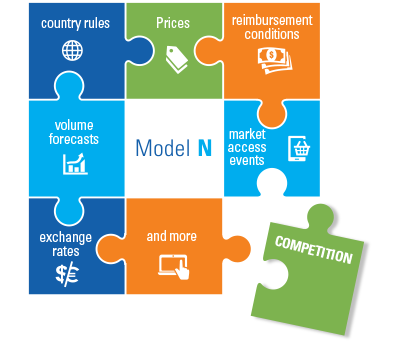 Benefits
Though just one component of commercial strategy, GPM offers important benefits for life sciences manufacturers. Customers can expect to receive significant value by experiencing these benefits, among others:
Decrease price erosion and optimize 100% of global revenue
Mitigate government non-compliance and eliminate audit risk
Improve forecasting by being able to continuously adjust throughout the entire products' lifecycle
Reduce non-value adding activities and eliminate the need for expensive consultant work that typically disregards 15% of the global market
"To be able to manage that [global discounts] in a more comprehensive manner than what we are doing now, would certainly be a huge advantage. Having more information is only helpful for the way we manage our business and also for revenue maximization."
Sue Naeyaert
Global Head Pricing, Market Access and Policy Biosimilars, Merck Serono
International Reference Pricing (IRP)
Reference pricing rules are complex, country-specific calculations utilized to control pharmaceutical cost by having their price reference other country prices. In 2016, 45% of all countries leveraged reference pricing practices, including most major markets outside of the U.S. With Model N's IRP add-on module to GPM, customers can simulate and generate price change requests for any country on demand. This results in an increased operational capacity of 37% and the unlimited simulations have proven results in mitigating a nearly 6% loss due to inevitable price erosion. These same complex rules and events are utilized by the launch sequence optimization capabilities of GLE.
Global Launch Excellence
While having an accurate pricing and reimbursement data foundation is a prerequisite for an effective roll-out of product strategies, the initial launch plan ultimately sets the trajectory of revenue throughout the product's lifecycle and beyond. A proper Launch Sequence Optimization (LSO) includes all 196 countries, rather than only utilizing the top 30-40 developed markets, which may exclude approximately 15% of potential revenue. With more launched products targeted to niche populations outside of developed markets, having 100% global visibility enables manufacturers to effectively plan their next launch. Model N's GLE add-on module to GPM allows for a truly global cross-functional engagement in a reiterative process, based on the most accurate and up-to-date information possible.
GPM Intelligence
Global Pricing Management (GPM) Intelligence provides insights into the pricing and market access landscapes in-country and globally. Dashboards allow the global pricing community to manage the efficiency of the global price management process (approval delays, etc) as well as its efficacy in managing global revenues. GPM Intelligence allows exception-based focus on problem areas through various reports and visualizations.
Competitive Price Intelligence
Competitive Pricing Intelligence allows pharma companies to evaluate the competitive landscape in the international markets and set their prices judiciously to achieve maximum revenue and market share. In-country personnel as well as global pricing stakeholders use Competitive Pricing Intelligence to evaluate in-country impacts in addition to global impacts of any changes in market conditions.