Deal Management
SEMICONDUCTORS & ECMS
Model N Deal Management allows you to take control of direct & channel sales opportunities. Allowing faster quoting with a seamless solution for quoting, and contracting.
Overview
Are you a multi-channel High Tech company with distribution partners and contract manufacturers across multiple regions? Are your complex pricing rules and high volumes of special pricing deals affecting your quote turnaround time and pricing consistency? Look no further! With Model N Deal Management you can:
Increase revenue by 2 to 3 percent with end customer and channel specific contract compliance and by eliminating overpayments to channels.
Dramatically reduce quote cycle time by setting profitable multi-channel deals with distribution partners and contract manufacturers across multiple regions.
Increase the accuracy of quote win rates and contract compliance by receiving quality POS and POP data from the Model N Channel Data Management cloud.
Improve deal conversion rates and protect transaction margin by increasing visibility into global demand and managing quoting, opportunity tracking, and contract compliance processes, including granular approval processes.
Model N helps you automate delivering advanced customer and quote analysis, and eliminating price erosion caused by internal bid wars and contract non-compliance.
The only solution supporting the end-to-end High Tech revenue management process, including quotes, contracts, opportunity, order conversion, samples and more.
Self-service capabilities empower channel partners to easily conduct transactions such as registrations, special pricing requests, quotes, thus accelerating deal cycles.
Measurable quote and contract compliance based on actual commitments, tiered pricing agreements, and accurate POS matching.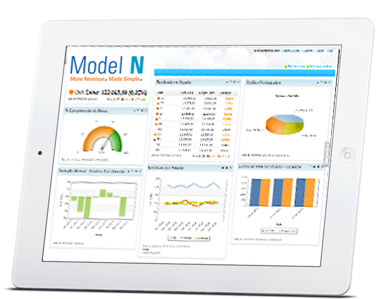 "Our company is dependent on the Model N solution... We use the data to help plan and drive our business."
Todd Reimund
Director of Corporate Marketing, Linear Technology
"Model N has become a true value to the individual sales person. It helps them do their job faster, better, more efficiently, and more effectively. They like it, and that's really significant."
Mitch Little
Vice President of Worldwide Sales, Microchip Technology
"Model N allowed us to raise the bar in how we respond to customers, made us more effective in the way we respond to customers, made us more capable in the way we price, and to avoid any errors we might make."
Peter Austin
Vice President, Global Sales and Marketing, NXP
Price Intelligence
Price Intelligence leverages the end-to-end business transaction pricing lifecycle within the Model N Intelligence Cloud to quickly identify price, margin, and revenue trends: 1) Spot at-a-glance margin and revenue issues in easy to use dashboards; 2) Drill down into issues and opportunities; 3) Identify root cause using the Price Waterfall and other tools.
Channel Cloud
Channel Cloud provides unique channel management solutions for your industry. Receive high-quality channel data and see accurate near real-time pictures of channel sales including POS and inventory. With Channel Cloud, you will be able to manage incentives and Marketing Development Fund (MDF) programs increasing channel engagement and actual results while eliminating overpayments. Also, you can manage channel inventory accurately, from registrations and ship and debit to price protection.
Deal Intelligence
Deal Intelligence delivers real-time intelligence to Sales reps and/or approvers at the time of contract and quote creation. Your team can now get a deal score and easily compare the deal at hand across customers, products, markets, channels to be in the driver's seat at negotiation time.