Deal Intelligence
IMPROVE MARGINS AND DEAL TURN AROUND TIME
Model N Deal Intelligence brings real-time, operational business intelligence to the price negotiation process with advanced customer and quote analysis functionality designed for the high-tech industry. It empowers your sales and marketing staff to maximize profit from each transaction by providing interactive tools that analyze relevant customer, price, margin, win/loss, and competitive data to provide price guidance at the point of negotiation. With access to real-time data and the ability to drill into granular transaction-level details, sales and marketing managers can evaluate more quotes faster without leaving money on the table.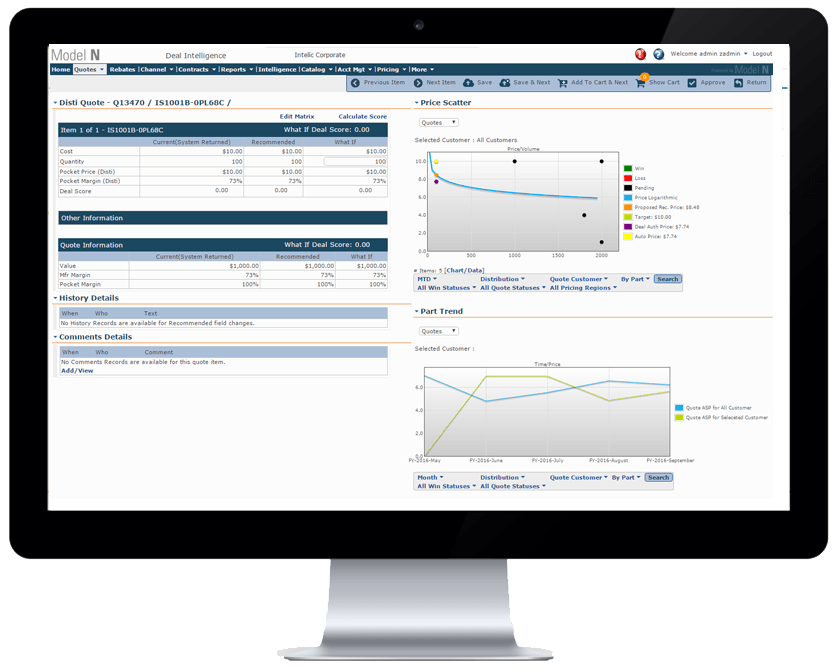 Features
Deal Intelligence enables Sales desk, reps, and approvers take quicker and better decisions by arming them with the right information at the time of quote and contract negotiation:
Define the right target price, and quickly evaluate and take the right pricing decisions on price requests.
Automatically quantify deal quality by calculating deal score, presenting recommended pricing/distributor cost, and enabling what-if scenarios.
Deliver interactive, contextual analytics to place deal scoring in the context of relevant customer, product, and transaction dimensions
Provide a data-supported audit trail for each pricing decision.
"Model N is the heartbeat of ON Semiconductor sales operations."
Randy Keadle
Corporate Pricing Manager, ON Semiconductor
"Model N has become a true value to the individual sales person. It helps them do their job faster, better, more efficiently, and more effectively. They like it, and that's really significant"
Mitch Little
Vice President of Worldwide Sales, Microchip Technology
"Model N allowed us to raise the bar in how we respond to customers, made us more effective in the way we respond to customers, made us more capable in the way we price, and to avoid any errors we might make."
Peter Austin
Vice President, Global Sales and Marketing, NXP
Deal Management
Deal Management provides a global quoting, pricing and contracting solution assuring consistent discount and volume compliance driving 3% to 5% increase to top line revenue for Semiconductor companies.
Channel Cloud
Channel Cloud bundles core Model N channel management solutions for your industry. Receive high-quality channel data and see the true near real-time picture of channel sales/POS and inventory. Manage incentive and MDF programs that increase channel engagement and actual results while eliminating overpayments.
Price Intelligence
Price Intelligence leverages the end-to-end business transaction pricing lifecycle within the Model N Intelligence Cloud to quickly identify price, margin, and revenue trends: 1) Spot at-a-glance margin and revenue issues in easy to use dashboards; 2) Drill down into issues and opportunities; 3) Identify root cause using the Price Waterfall and other tools.