Rapid, knowledgeable support services power your success
Model N is committed to ensuring you maximize the full potential of your investment and have a high level of satisfaction with our application suite. Outstanding customer support is a top priority for us.
The Model N Customer Support team provides Standard Support as part of the software subscription for the use of the standard Model N product suite and out of the box configurations. Standard Support includes access to the Service Desk where you can submit a ticket. The team will answer questions, triage incidents and defects with regard to production environments.
We also offer optional 24/5 and 24/7 support services to manage the full spectrum of support and ensure you get the results you expect.
HOW WE HANDLE TICKET PRIORITY
Model N has adopted the IT Service Management (ITSM) standard for calculating request Priority. Priority is calculated from Urgency and Impact per the below table.
Impact is the number of people or user groups who are impacted.  E.g. An issue that affects just one user or a handful of users would be Minor/Localized Impact, while an issue that affects all users would be Extensive/Widespread Impact.
Urgency is how serious the issue is. E.g. An issue with a feature that is rarely used or has an easy workaround would be Low Urgency, while an issue with a feature that has effectively taken a product offline—it has failed catastrophically and is inoperative by the Customer and all end users—would be Critical (Emergency) Urgency.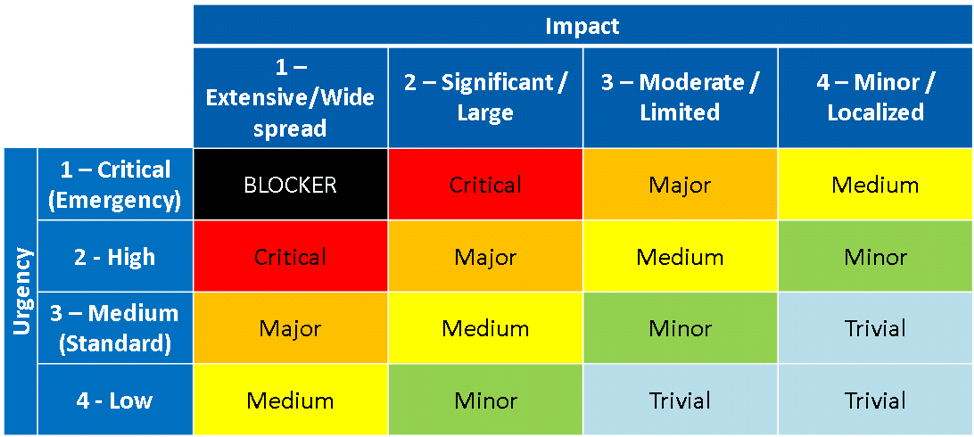 Customer Support Hours of Operation
Standard Support: Mon-Fri 8AM-8PM ET
Optional Levels of Support: 24×5 and 24×7
US Holiday Schedule
New Year's Day: 01/01/2020
Martin Luther King Jr. Day: 01/20/2020
President's Day: 02/17/2020
Memorial Day: 05/25/2020
Independence Day Observed: 07/03/2020
Labor Day: 09/07/2020
Thanksgiving: 11/26/2020 & 11/27/2020
Christmas: 12/24/2020 & 12/25/2020
Model N Managed Services & Support (MSS)
Need extra assistance? Model N's Managed Services and Support team of experienced, skilled professionals provides business and operational services, filling in capability gaps within your organization. Offering a broad assortment of value-added services, ranging from front-line helpdesk and business optimization to technical services to manage integrations and operations, the MSS team provides a high level of support to address your changing business needs.