Design and Execute Your Strategies with The Most Comprehensive PRMA Solution Collaboratively Built with Industry's Experts.
Model N's Global Pricing Management (GPM) embeds industry's best practices allowing users to instantly realize improvements across their market access activities. GPM's industry tested capabilities allow users to seamlessly govern the pricing process, design and execute elaborate P&R strategies, as well as maintain visibility into competitive information; all within one platform.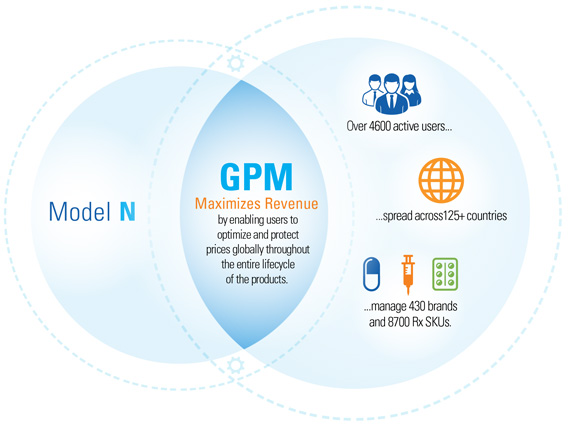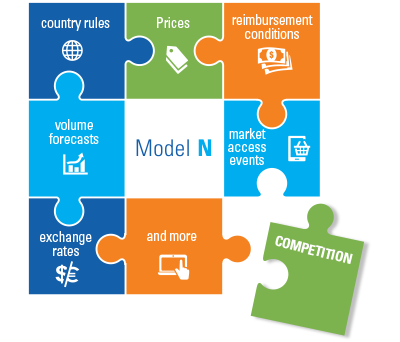 Enable all Market Access stakeholders to make faster and better decisions based on the most accurate and up-to-date information available.
All price related decision making must start with accurate information. However, gathering the information from a multitude of sources across the globe easily lends itself to inaccuracy. Moreover, frequent market changes force stakeholders to continually require additional data adjustments, decreasing the chances of arriving at an optimal decision.
Model N's Global Pricing Foundation enables a streamlined price governance process and precise decision making by consolidating all necessary information into a single source of truth. User-defined access allows stakeholders at various levels to contribute data, ensuring everyone's access to the most accurate and up-to-date information.
Built-in analytics and dashboards enable the entire Market Access team to quickly assess and respond to market changes.
GPM Foundation benefits:
Streamline price governance and cross-functional efficiency by providing all stakeholders with access to the centralized repository of all PRMA related information.
Improve decision making by utilizing built-in analytics specifically designed for Market Access teams.
Increase products' performance visibility and surface insights faster through integrated dashboards.
Understand market realities in full context, and improve submissions accuracy, by adding visibility into competitive data
Having access to competitive information is the key to understanding the market. Model N's Competitive Pricing module makes it easy by delivering this information within the same platform as your GPM Foundation. Whether it is the improvement accuracy of health technology assessment (HTA) models, analogue drug pricing data, or payer behavior analysis that's required; all stakeholders will benefit from easy to access competitive data.