Global Pricing and
Deal Management
Increase deal conversion while enforcing pricing consistency with the only pricing and deal management software built for the semiconductor and components industry.
Global Pricing and Deal Management for Semiconductor and Component Manufacturers
Are you a multi-channel High Tech company with distribution partners and contract manufacturers across multiple regions? Are your complex pricing rules and high volumes of special pricing deals affecting your quote turnaround time and pricing consistency? Look no further! With Model N Global Pricing and Deal Management you can:
Ensure accurate, customer specific pricing
Reduce quote cycle time
Increase quote conversion rate
Convert quotes to order or debit
Model N helps you automate quoting and price execution, delivering advanced customer and quote analysis, and eliminating price erosion caused by internal bid wars and contract non-compliance.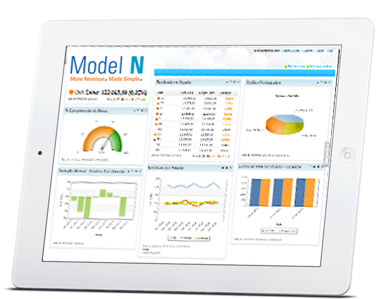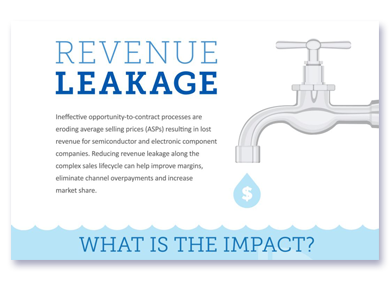 More Revenue. Made Simple.
Model N provides High Tech companies with an integrated Revenue Management suite providing global pricing, quoting, deal intelligence, rebates and channel management solutions. Over 50 leading High Tech brands have successfully increased revenues by 2 to 3 percent through tighter discounting controls, contract compliance and eliminating overpayments to channels.
Improve deal conversion rates and protect transaction margin by increasing visibility into global demand and managing quoting, opportunity tracking and contract compliance processes.
Free 2-day Value Discovery Workshop:
Building your Business Case
On every $1B in sales, semiconductor and component companies lose millions annually to lost opportunities, poor volume and price compliance, channel overpayments and other forms of price erosion.
Model N offers a free 2-day value discovery workshop where you are empowered with the knowledge to:
Uncover gaps in business processes and tools compared to industry best practices
Point to areas of opportunity for business improvement
Make recommendations on how the company can value business
Why Model N Global Pricing and Deal Management
Model N's High Tech Revenue Management is the only comprehensive enterprise solution focused on managing the complex sales lifecycle of High Tech companies in the marketplace. Consider these unique components:
Interactive Quoting: Dramatically reduces quote cycle time so users can quickly and easily respond to new opportunities, retrieve and analyze past quote activities and retrieve general catalog pricing.
Sample Processing: Streamlines requests through fulfillment of samples so users can place new requests, view status of past pending requests, and update details.
Self-service Capabilities: Empower channel partners to easily conduct Debit and Special Pricing Approvals for increased ease of doing business and accelerated deal cycles
Contract Compliance: Reduces price erosion caused by off-contract quotes, so that pending transactions adhere to contractual commitments and tiered pricing agreements.
You have an inquiry? We are here to help.
Thank you for your interest in Model N and our Revenue Management solutions and services. Please submit the form to the right and a representative will contact you to answer questions.