Tenders are used all across the globe as a way of running competitive procurement processes and increasing transparency into evaluation criteria. Purchasers use tenders to obtain the best possible purchase price, while eliminating corruption and favoritism. These benefits have led to a growing reliance on tenders within the life sciences industry.
Globally, 85% of all medtech revenue is derived from tenders, and as a result of the growth of generic drugs and vaccines, tenders now account from anywhere from 25% to 40% of global pharmaceutical revenue.
The significance of tenders goes beyond sales to impact market share and overall revenue. Ineffective tender management processes and a lack of visibility into key metrics like win-loss rates and resulting sales can cause a company to be on the hook for an unprofitable contract or get locked out of a market for up to 36 months.
With so much at stake, life sciences companies must find ways to reduce the complexity of managing their processes across regions, countries, and teams. But first they must understand what makes tender management so challenging.
Without visibility into tender opportunities, companies cannot effectively identify opportunities early enough to craft appropriate responses.
Inefficient processes can result in missed deadlines or incomplete submissions.
Homegrown, manually intensive tools silo information across regions and markets.
Incomplete, inaccurate, and untimely account, tender, and competitive data makes it difficult to analyze wins and losses, govern prices, and make better decisions.
These challenges are prevalent across the tender lifecycle – and can have significant impacts on a company's profitability. By establishing a strong global tender management process, companies can better shape, make, and drive value from their tenders.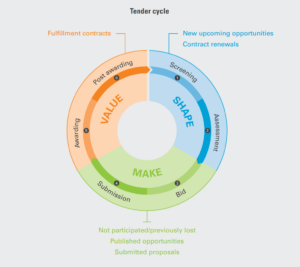 In the white paper, "Create winning tender strategies," Model N discusses how companies can streamline tender management across the three phases of the tender cycle to improve visibility and increase win rates.
Shape tenders: With greater awareness of opportunities, companies can quickly identify and determine if they qualify for a tender. By understanding which opportunities are right for their organizations, they can focus their efforts and develop capture plans to shape the tender in their favor before publication.
Make tenders: Streamlining preparation through task assignment and progress tracking mitigates the risk of inaccurate or failed submissions. Additionally, simulations can enable companies to arrive at the most profitable offer, which cannot only improve their chances of winning, but also protect their margins.
Drive value: With insight into wins and losses, as well as past performance and competitive information, companies can optimize contract potential and improve their likelihood of success on future submissions.
Download the white paper to learn how to get the insights and controls necessary to more efficiently identify and respond to tenders, improve accuracy, and boost margins.