Model N Deal Intelligence
Gain control over price concessions and determine ideal prices using data and analytics by leveraging Model N's Deal Intelligence
Improve Margins and Deal Turn Around Time
Model N Deal Intelligence brings real-time, operational business intelligence to the price negotiation process with advanced customer and quote analysis functionality designed for the high-tech industry. It empowers your sales and marketing staff to maximize profit from each transaction by providing interactive tools that analyze relevant customer, price, margin, win/loss, and competitive data to provide price guidance at the point of negotiation. With access to real-time data and the ability to drill into granular transaction-level details, sales and marketing managers can evaluate more quotes faster without leaving money on the table.
Help pricing negotiators define the right target price, and approvers quickly evaluate and take the right pricing decisions on price requests.

Automatically quantify deal quality by calculating deal score, presenting recommended pricing/distributor cost, and enabling what if scenarios.
Deliver interactive, contextual analytics to place deal scoring in the context of relevant customer, product, and transaction dimensions
Provide a data-supported audit trail for each pricing decision.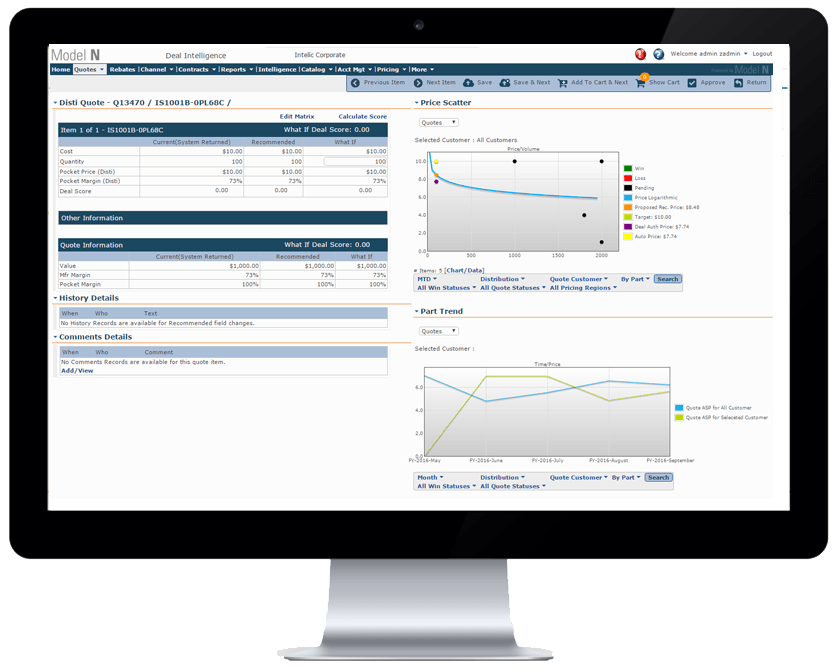 Revenue Cloud for High Tech
Features
Deal Score: deal quality assessment based on a relevant deal score uniquely configurable for your business needs

What-If Analysis: define various scenarios to determine best price (margin / compliance)
Price Scatter: compare with pricing on recent, similar Quotes and Contracts, showing price for current deal in context
Part Trend: compare product price for current vs. other customer groups/segments
Customer Performance: review revenue, profit, contract/quote volume compliance, quote closure rate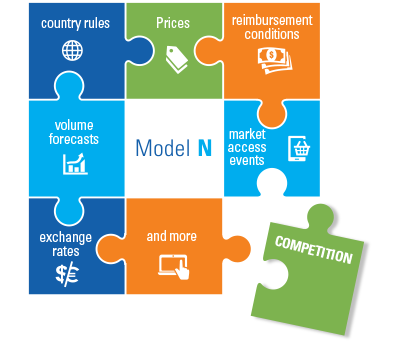 You have an inquiry? We are here to help.
Thank you for your interest in Model N and our Revenue Management solutions and services. Please submit the form to the right and a representative will contact you to answer questions.