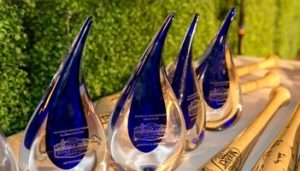 Leading Companies Recognized at Rainmaker 2015 Conference for their Achievements with Revenue Management
SAN FRANCISCO, CA – February 12, 2015 – Model N, Inc. (NYSE: MODN), the leader in Revenue Management solutions, announced the recipients of the Rainmaker Awards at Rainmaker 2015 in San Francisco. Each year, Model N recognizes companies that have driven tremendous results by transforming their business processes through vision, analytics, best practices, innovation, passion and globalization of Revenue Management.
"I would like to congratulate the recipients of this year's Revenue Management Leader awards for their passion, determination and commitment to excellence." said Zack Rinat, Founder, Chairman and Chief Executive Officer of Model N. "We are proud to recognize these life science and high tech visionaries for their impressive achievements."
The recipients of the 2015 Rainmaker awards are:
AstraZeneca: Revenue Management Globalization
This award recognizes a company who has set a vision and strategy of Global Revenue Management and has executed well to bring this vision to reality.
Johnson & Johnson: Revenue Management Innovator
This award recognizes a company who has made significant innovation in Revenue Management.
Actavis: Revenue Management Visionary
This award recognizes a company that has expanded the horizons of Revenue Management.
Celgene: Revenue Management Best Practice
This award recognizes a company that has excelled implementing Revenue Management system achieving on-time, on–budget and on-value for the project,
EMD Serono: Revenue Management Analytics
This award recognizes a company that deployed and leveraged Revenue Intelligence Cloud to drive revenues.
Linear Technology: Revenue Management Passion for the Journey
This award recognizes a company that believes that Revenue Management is a journey, not a destination and has demonstrated an abundant passion for that journey over an extended period of time.
The Rainmaker Awards were presented this year at AT&T Park, home of the 2014 World Series Champions, the San Francisco Giants.
About Model N
Model N is the leader in Revenue Management Cloud solutions. Model N helps its customers maximize their revenues by maximizing sell time, revenues per opportunity and number of opportunities. Model N Cloud solutions manage every dollar that impacts the customer's top line and transforms the revenue lifecycle from a series of disjointed operations into a strategic end-to-end process. With deep industry expertise, Model N supports the unique business needs of life science and technology companies across more than 100 countries. Global customers include: Actavis, Allergan, Atmel, Bristol-Myers Squibb, Dell, Johnson & Johnson, Linear Technology, Merck, Marvell, Maxim, Micron, Nokia, Novartis, Novo Nordisk, ON Semiconductor, and STMicroelectronics. Learn more at: http://www.modeln.com. Model N is traded on the New York Stock Exchange under the symbol MODN.
Legal
Model N® is a registered trademark of Model N, Inc. Any other company names mentioned are the property of their respective owners and are mentioned for identification purposes only.
Connect with Model N
Media Contact
Sara Black
Grayling
Tel: 213.618.1501
Email: sara.black@grayling.com