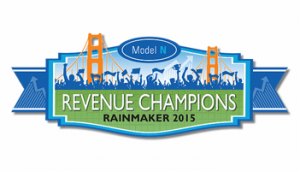 Adobe CFO, Mark Garrett and Three-Time Super Bowl Champion Roger Craig to Present Keynotes at Conference Focused on Revenue Management Cloud for Fortune 500 Companies
SAN FRANCISCO, CA – February 3rd, 2015 – Model N, Inc. (NYSE: MODN), the leading Revenue Management solutions provider to the life science and technology industries, today kicked off Rainmaker 2015, the only industry conference dedicated to Revenue Management, in San Francisco. Model N unveiled its vision for the future of Revenue Management, introduced Revenue Management as a Service and Revenue Management Cloud and revealed the results of its CFO survey during the annual conference.
Held at the Westin St. Francis hotel in downtown San Francisco from Feb. 3-4, this year's Rainmaker conference breaks the record with attendance of over 300 attendees including industry experts from the life science and technology industries to collaborate and share insights on mission critical aspects of Revenue Management.
"On our 11th Rainmaker, we are excited to have record attendance this year with the theme of Revenue Champions. Our customers and partners comprise of the world's leading global brands and are championing Revenue Management — a mission critical solution, within their organizations," said Zack Rinat, Founder, Chairman and Chief Executive Officer of Model N. "Rainmaker is the fountainhead of the latest and greatest in Revenue Management Cloud offerings, and I want to thank our customers and sponsors in making this happen."
With this year's theme and venue in the City of Champions, Model N celebrates its customer awards at the AT&T Park, home of the 2014 World Series Champions, the SF Giants. This event brings together a collection of champions including keynotes from NFL champion and 49ers Hall of Fame running back Roger Craig and Executive Vice President and Chief Financial Officer of Adobe Mark Garrett as well as executives from saleforce.com.
Key Announcements
Model N announced the launch of its Winter '14 Revenue Management Cloud product with multiple go-lives in record time, Revvy Sales on the AppExchange and Revenue Management as a Service.
RMaaS is a three-step strategy that provides no-hassle upgrades, reduces total cost of ownership, accelerates time to value and eliminates financial risk for Model N customers. It builds on key benefits such as accelerated migration, configurable architecture, customer-specific testing and automation, monitoring & support and on-boarding and training.
Model N CFO Survey: Apple CFO is the Most Admired of Top Fortune 500 Companies
Model N announced the results of its CFO survey of 300 executives within the U.S. revealing that Apple's Chief Financial Officer Luca Maestri is the most admired CFO from the Fortune 500, with 94% of executives surveyed asserting that the CFO is one of the most important positions for companies today.
When looking at Revenue Management — a strategic approach to managing every dollar that impacts the top-line of the business — nearly all executives surveyed (95%) believe it is critical to the growth and success of the company and agreed that it's critical for CFOs to be included in the sales cycle. However, nearly three-quarters (74%) of executives surveyed admitted that their CFO is not currently involved in the sales conversation because he or she has no direct experience leading a sales organization.
For registration and additional information, please visit the Rainmaker 2015 website.
About Model N
Model N is the leader in Revenue Management Cloud solutions. Model N helps its customers maximize their revenues by maximizing sell time, revenues per opportunity and number of opportunities. Model N Cloud solutions manage every dollar that impacts the customer's top line and transforms the revenue lifecycle from a series of disjointed operations into a strategic end-to-end process. With deep industry expertise, Model N supports the unique business needs of life science and technology companies across more than 100 countries. Global customers include: Actavis, Allergan, Atmel, Bristol-Myers Squibb, Dell, Johnson & Johnson, Linear Technology, Merck, Marvell, Maxim, Micron, Nokia, Novartis, Novo Nordisk, ON Semiconductor, and STMicroelectronics. Learn more at: http://www.modeln.com. Model N is traded on the New York Stock Exchange under the symbol MODN.
Legal
Model N® is a registered trademark of Model N, Inc. Any other company names mentioned are the property of their respective owners and are mentioned for identification purposes only.
Connect with Model N
Contact
Sara Black
Grayling
Tel: 213.618.1501
Email: sara.black@grayling.com