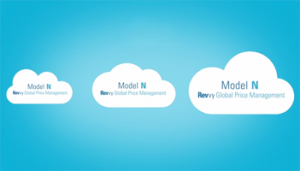 7 of the top 20 Pharmaceutical companies are customers of Revvy Global Price Management, a SaaS solution to manage prices globally
Redwood City, CA – March 2, 2015 – Model N, Inc. (NYSE: MODN), the leading revenue management solutions provider to the life science and technology industries, today announced that 7 of the top 20 pharmaceutical companies, including Gilead, are customers of Revvy Global Price Management (GPM), a Software-as-a-Service (SaaS) solution to drive effective global pricing strategies.
With the recent addition of a Top 3 Pharmaceutical company to the roster, Revvy GPM customers represent over 2,000 seats in over 100 countries, supporting product portfolios that collectively generate over $100B in revenue.
Maximizing revenues and reducing price erosion is top of mind for Pharmaceutical executives and requires access to up-to-date global pricing data, improving cross-regional pricing collaboration and uncovering insights through historical and predictive analytics. Failing to manage and understand pricing on a global level can translate into revenue loss amounting to tens of millions of dollars. International Reference Pricing adds another layer of complexity. A price change in one country can dramatically lower the prices that government buyers are willing to pay in other countries, creating a geo-complexity for the Pharmaceutical CFO and can result in millions of dollars of annual losses and negative brand equity.
Model N Revvy Global Price Management (GPM) is the only enterprise-grade SaaS solution for the life science vertical focused on helping pharmaceutical, biopharmaceutical, and medical device companies maximize revenues by reducing price erosion and comply with global pricing regulations.
Built for international pricing and market access department leaders, the solution helps global pricing teams realize better prices throughout the product lifecycle, surfacing insights to execute revenue maximizing pricing strategies, and drive better business governance with unified pricing processes. It is the only global pricing, vertical specific, SaaS solution built on the Salesforce1 Platform that delivers enterprise-grade business continuity, collaboration, efficiency and work process flexibility.
"The life science industry continues to require an end-to-end, enterprise class solution to manage timely global pricing" said Zack Rinat, Founder, Chairman and Chief Executive Officer at Model N. "With pressures on price such as international referencing becoming more and more common both at launch and on an on-going basis, Global Price Management becomes a strategic imperative."
About Model N's Revvy Global Price Management
Revvy Global Price Management helps global manufacturers mitigate reference pricing risk and profitability erosion through a powerful combination of data management, SaaS applications, and best practices, including:
Global Pricing Database: Manage price lists, calendar of price events, fix rates, volume forecasts in a single global repository
Global Price Governance: Administer user roles and rights; manage approval routes; trigger alerts, acknowledgement or escalation
Rule Definitions and Calculations: Consolidate international reference pricing (IRP) rules — country baskets, formulas, timing, channel, formal/informal, etc.
Simulation Analytics and Reporting: Access price change impact reports and referencing country reports, create ad-hoc reports and charts
Launch Tracking and Optimization: Monitor launch preparedness and market access timelines, and identify best combinations of launch date and price in each country
Cloud Delivery and Mobile Access: Optimize time to value and reduce capital outlays through rapid cloud deployment; built on the force.com platform. Mobile application for on-the-go data access and price request approvals
About Model N
Model N is the leader in Revenue Management Cloud solutions. Model N helps its customers maximize their revenues by maximizing sell time, revenues per opportunity and number of opportunities. Model N Cloud solutions manage every dollar that impacts the customer's top line and transforms the revenue lifecycle from a series of disjointed operations into a strategic end-to-end process. With deep industry expertise, Model N supports the unique business needs of life science and technology companies across more than 100 countries. Global customers include: Actavis, Allergan, Atmel, Bristol-Myers Squibb, Dell, Johnson & Johnson, Linear Technology, Merck, Marvell, Maxim, Micron, Nokia, Novartis, Novo Nordisk, ON Semiconductor, and STMicroelectronics. Learn more at: http://www.modeln.com. Model N is traded on the New York Stock Exchange under the symbol MODN.