Atmel Selects Model N Revvy Sales Application Suite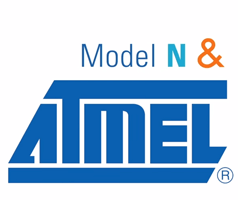 Adopting the Semiconductor & Components Manufacturing Industry's First CRM Cloud Solution
REDWOOD CITY, CA – February 17, 2015 – Model N, Inc. (NYSE: MODN), the leading revenue management solutions provider to the life science and technology industries, today announced that Atmel, a global leader in microcontroller, security and touch solutions for the industrial, consumer, communications, computing and automotive markets, has selected Model N's Revvy Sales Application Suite.
Revvy Sales Application Suite is the first CRM solution focused on and built for the semiconductor industryand is an end-to-end sales solution that helps organizations increase design wins, improve sales efficiency and increase channel business visibility.
"We are excited to deploy the Model N Revvy Sales Application Suite built on the Salesforce 1 Platform to provide our customers with increased support," said Yang Chiah Yee, Vice President of Worldwide Sales, Atmel. "With tight integration to the Model N Revenue Management Cloud, this solution provides native support for the requirements of the semiconductor industry."
Maximizing Selling Time, Maximizing Opportunities
Studies indicate that over 33% of a sales person's time is wasted on non-selling administrative activities.  Built on the Salesforce1 platform, Revvy Sales Application Suite helps Model N customers sell more by improving sales productivity, enhancing direct and channel visibility into the funnel, reducing opportunity duplications across channels and regions and driving more designs into the funnel.
Revvy Sales built in solution selling capabilities will help sales professionals to be a better solution seller capturing more opportunities while better serving customers.  Revvy Sales integration with the Model N Revenue Management Cloud enables sales professionals  to quote directly from their CRM accelerating deal cycles and provides tools to better manage volume compliance and channel assets.
"We are excited to have Atmel adopt the Revvy Sales Application Suite, now available on Salesforce.com AppExchange," said Zack Rinat, Founder, Chairman and Chief Executive Officer at Model N. "Atmel's adoption is a clear statement of support for the unique value of a vertical CRM solution that is truly built for the industry."
About Model N
Model N is the leader in Revenue Management Cloud solutions. Model N helps its customers maximize their revenues by maximizing sell time, revenues per opportunity and number of opportunities. Model N Cloud solutions manage every dollar that impacts the customer's top line and transforms the revenue lifecycle from a series of disjointed operations into a strategic end-to-end process. With deep industry expertise, Model N supports the unique business needs of life science and technology companies across more than 100 countries. Global customers include: Actavis, Allergan, Amgen, Atmel, Boston Scientific, Bristol-Myers Squibb, Dell, Johnson & Johnson, Linear Technology, Merck, Marvell, Maxim, Micron, Nokia, Novartis, Novo Nordisk, ON Semiconductor, and STMicroelectronics. Learn more at: http://www.modeln.com. Model N is traded on the New York Stock Exchange under the symbol MODN.
Legal
Model N® is a registered trademark of Model N, Inc. Any other company names mentioned are the property of their respective owners and are mentioned for identification purposes only.
Connect with Model N
Media Contact
Sara Black
Grayling
Tel: 213.618.1501
Email: sara.black@grayling.com