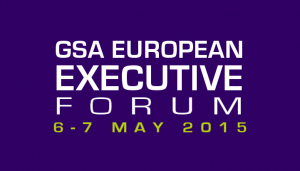 Geneva, CH – May 6, 2015 – Model N, Inc. (NYSE: MODN), the leading Revenue Management Cloud solutions provider to the life science and technology industries, announced today their gold level sponsorship of the Global Semiconductor Alliance (GSA) Executive Conference which will take place in Munich May 6-7.
"We are very proud to have Model N, leader in Revenue Management Cloud solutions as a gold sponsor for the GSA European Executive Forum," said Jodi Shelton, GSA. "With their deep semiconductor industry expertise, Model N offers the Revvy Sales Application Suite, which helps their customers sell more by improving sales productivity. Sales productivity comes indeed as a top priority on the agenda of semiconductor executives attending today's GSA Forum."
The GSA is the voice of the global semiconductor industry with nearly 400 member companies throughout 32 countries and representing over 75% of the industry revenues. The two-day senior executive conference includes the broadest cross-section of European, American and Asian speakers and senior executive attendees from the industry.
Studies indicate that over 33% of a sales person's time is wasted on non-selling administrative activities.  Built on the Salesforce1 platform and available in the Salesforce AppExchange (www.appexchange.com), Revvy Sales Application Suite is the first vertical CRM solution for the semiconductor industry. Using Revvy Sales, Model N customers can sell more by improving sales productivity, enhancing direct and channel visibility into the funnel, reducing opportunity duplications across channels and regions and driving more designs into the funnel.
"We are excited to partner with and sponsor the GSA conference" said Shail Khiyara, Senior Vice President and Chief Marketing Officer at Model N. "Designed specifically for and with input from the semiconductor vertical, Revvy Sales Application Suite drives sales effectiveness, empowering manufacturers to strategically manage their entire opportunities pipeline and channel design registrations with out-of-the-box functionality."
Model N will also be an exhibitor and will be located in Nymphenburg 3 Exhibition Area, booth four, during the conference.
Expertise in Europe
Model N's expertise in Revenue Management for the semiconductor industry reaches across the globe. Leading customers include Freescale, STMicroelectronics, and CSR who are all presenting at the GSA Executive Conference.
About Model N
Model N is the leader in Revenue Management Cloud solutions. Model N helps its customers maximize their revenues by maximizing sell time, revenues per opportunity and number of opportunities. Model N Cloud solutions manage every dollar that impacts the customer's top line and transforms the revenue lifecycle from a series of disjointed operations into a strategic end-to-end process. With deep industry expertise, Model N supports the unique business needs of life science and technology companies across more than 100 countries. Global customers include: Actavis, Allergan, Atmel, Bristol-Myers Squibb, Dell, Johnson & Johnson, Linear Technology, Merck, Marvell, Maxim, Micron, Nokia, Novartis, Novo Nordisk, ON Semiconductor, and STMicroelectronics. Learn more at: http://www.modeln.com. Model N is traded on the New York Stock Exchange under the symbol MODN.
Legal
Model N® is a registered trademark of Model N, Inc. Any other company names mentioned are the property of their respective owners and are mentioned for identification purposes only.
Media Contact
Jan Leder
Grayling Deutschland GmbH
Tel: (+49) (0)211.9648.541
Email: jan.leder@grayling.com