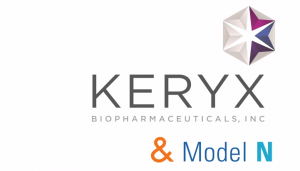 Model N's out-of-the-box, SaaS Revenue Management solution delivers fast time-to-value
Redwood City, CA – April 9, 2015 – Model N, Inc. (NYSE: MODN), the leading Revenue Management Cloud solutions provider to the life science and technology industries today announced that Keryx Biopharmaceuticals, Inc., a rapidly growing biopharmaceutical company is live on Model N's Revenue Management Cloud suite using the Model N Express Implementation methodology.
"We are now managing all of our institutional, purchase-based, channel, and managed care contracts, as well as incentives in a single system — Model N's new Revenue Management Cloud, using the Express methodology," said Matt Gray, Executive Director of Financial Planning and Analysis, Keryx Biopharmaceuticals. "Model N Express helps efficiently process our transactions and should drive more accurate and efficient pricing, rebating, and accruals processes with no-hassle upgrades and no requirement to host the software or manage the infrastructure."
Model N Express enables midmarket life sciences companies of all sizes to maximize revenues and reduce compliance risk with enterprise-grade Revenue Management delivered as a pre-configured, best practices, SaaS solution.
According to a study by KPMG, 32% of midmarket executives report that their most significant barrier to growth is pricing pressure. These organizations however, do not have the resources or time to implement comprehensive Revenue Management solutions that can strategically drive growth by maximizing revenues.
Model N Revenue Management Cloud is a mission-critical enterprise-grade SaaS solution. Model N Express is an out-of-the-box, preconfigured, best practices implementation methodology that is designed for quick time to value at a fixed price. By leveraging Revenue Management Cloud and the Express implementation methodology, Keryx was able to go-live with best practices in contracting, rebating, and channel management within 6 months.
"Midmarket companies require an out-of-the-box, end-to-end Revenue Management solution as the cornerstone of a successful revenue growth strategy in the life science industry" said Zack Rinat,Founder, Chairman and Chief Executive Officer at Model N. "Model N has packaged 14 years of experience working with the largest brands in life sciences — including J&J, Merck, Corning, AstraZeneca, and Stryker — into an enterprise-grade SaaS offering for midmarket companies."
Resources
•        Model N Express
•        Model N for the Life Sciences
•        Model N Revenue Management
About Model N
Model N is the leader in Revenue Management Cloud solutions. Model N helps its customers maximize their revenues by maximizing sell time, revenues per opportunity and number of opportunities. Model N Cloud solutions manage every dollar that impacts the customer's top line and transforms the revenue lifecycle from a series of disjointed operations into a strategic end-to-end process. With deep industry expertise, Model N supports the unique business needs of life science and technology companies across more than 100 countries. Global customers include: Actavis, Allergan, Atmel, Bristol-Myers Squibb, Dell, Johnson & Johnson, Linear Technology, Merck, Marvell, Maxim, Micron, Nokia, Novartis, Novo Nordisk, ON Semiconductor, and STMicroelectronics. Learn more at: http://www.modeln.com. Model N is traded on the New York Stock Exchange under the symbol MODN.
Legal
Model N® is a registered trademark of Model N, Inc. Any other company names mentioned are the property of their respective owners and are mentioned for identification purposes only.
Connect with Model N
Media Contact
Sara Black
Grayling
Tel: 213.618.1501
Email: sara.black@grayling.com