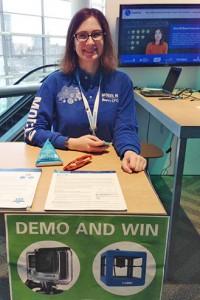 Every year, dozens and dozens of software companies take up residence in the Dreamforce Cloud Expo. The people working at these booths are in for a unique Dreamforce experience of their own. As Model N prepares for another year at this one-of-a-kind conference, we decided to get the perspective of two experienced Dreamforce booth workers. Ali and Eileen worked at Model N's booths last year and will be returning this year as well. We asked them to tell us about their experiences and provide some advice for first-time booth workers.
What is Dreamforce like?
Ali has one word to describe the Dreamforce experience: "huge." "It's simultaneously the most exciting and overwhelming workplace I've ever had," she says. "I couldn't believe how many booths there were and how many people came to visit them!"
Eileen was also blown away by the scale of the event:
"Dreamforce is incredible. There is a reason that people nickname it the "Disneyland of Conferences." It not only takes over the Moscone center but seemingly any restaurant, hotel, etc. in San Francisco! Although there is serious business getting done there, there is upbeat music playing and it would not be uncommon to see someone cruising through on a Hoverboard."
What was your favorite part of Dreamforce?
Ali really enjoyed chatting with attendees about their business needs. "It was great to explore people's challenges and then discover how our solutions could help. For example, I talked with people overwhelmed by the size of their product catalogs and was able to show them how Revvy Revenue Management could make quoting much easier for them."
What did you learn at Dreamforce?
Eileen emphasized the reach and diversity of the Salesforce community:
"I learned a great deal from attending Dreamforce. There are seemingly endless sessions available to those with a Full Conference badge, but there is no shortage of things to learn, even for those without the golden ticket. The most profound thing I learned was the incredible reach that Salesforce has in so many different industries and applications. The Salesforce partner ecosystem extends that reach even further to the point that it seems like any company regardless of product, industry, or size could have some use for Salesforce. In addition, I attended Dreamforce a mere 3 months after I graduated college so almost everything was a learning experience!"
Ali and Eileen's Tips for Dreamforce Booth Workers:
Know your products. "You'll be having a lot of in-depth conversations about them that week, so make sure you can keep up." Roleplay with other booth staff at your company before the event if you can.
Keep track of your booth scans. Eileen's main piece of advice was to "come up with a system to remember and track your leads/booth scans. You think you'll remember everyone you talked to and each conversation, but that's just not the case. Take notes!" Both agreed that notes are key to good follow-ups: if you can remember something specific about a conversation you had with a lead, that lead will be more likely to remember you once the show is over!
But don't focus on just booth scans. There's much more to Dreamforce than just your company's booth! You never know who you'll run into in the rest of the conference. "Attend events," Eileen says, "or strike up a friendly conversation with someone in a line." Don't forget your business cards!
Know where your break spots are. "You'll definitely be in need of breaks!" Ali warns. "The coffee station in the center of the Cloud Expo hall was my lifesaver last year." Take a look around the show floor before you have booth duty and find good break spots. "If you're the type of person that needs to find a quiet place every once in a while, make sure you find your quiet spots as soon as you can. I recommend bathrooms and closed-off areas behind booths." Just make sure you're allowed to be there!
Shoes are everything. It seems obvious, but remember that you'll be on your feet for days on end (unless you get lucky and are at a booth with a spare seat). "Now is not the time for stilettos!" Ali laughs.
If it's your first time working at a booth at Dreamforce, we hope these tips come in handy. Relax, smile, and take your breaks when you need them; you'll do great!
Join Ali and Eileen at Dreamforce '16 booth #408, where they will be working with the rest of the Model N team. Click here to see our events, schedule a meeting, and learn more about our solutions including:
Contract Lifecycle Management (CLM), which enables organizations to create and manage all types of sell-side contracts in one place, integrates seamlessly with Salesforce CPQ®, and supports redlining directly in MS Word®.
Rebate Management, which enables tracking, calculating, and managing rebates, while helping you align your partners and customers with your sales goals.
Sales for Semiconductor, the only vertical CRM solution that allows semiconductor manufacturers to strategically manage their entire direct opportunities pipeline and channel design registrations to increase design wins, sales efficiency, and channel business visibility.
X-DataManager which enables businesses to download, analyze, and mass update Salesforce quote, contracts, and rebates data with the power and familiarity of MS Excel®.