By Ankur Gupta, Director of Product Management and Prashant Sonu, Product Manager
A research study by Google and The Boston Consulting Group (BCG) reports that mobile usage drives or influences more than 40% of revenue in leading B2B companies.
The timely decisions related to critical functions like pricing are key to the success of revenue management for any organization – whether it is about winning new business or opening new opportunities.
However, decision-making and approvals can be slowed down by lack of access to relevant data and seamless connectivity to approvals especially when decision-makers are distributed across business locations, geographies and often on the move. To make it harder, business transactions typically require approval from multiple functions (group/regional managers, marketing, finance, etc.,) which are often processed in sequential order making the cumulative effect of these delays a significant impact on your business.
The good news is that most approvals may not need to look at all the details associated with a transaction.  Those who approve often require only limited set of actions which include approval workflows, quotes changes and adding comments.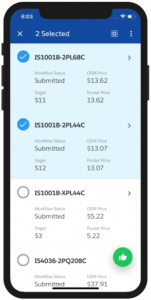 Those approving quotes in Model N's Revenue Cloud application can now respond to pricing requests from anywhere, anytime by simply downloading Model N's new mobile application. With a few taps, users can quickly view all approval requests and associated quote information in a highly optimized interface that is designed for mobile devices. All of this information is offered with enterprise grade security features to protect sensitive data on mobile devices and push role-based standard configurations to a variety of users.
To learn more about Model N Revenue Cloud Mobile application, plan on attending Rainmaker '19 where educational sessions will be offered by Model N University.