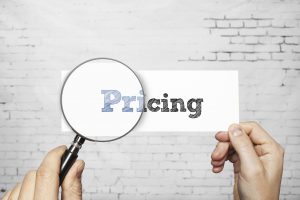 As I was looking up flights for my vacation later this year, I navigated to my favorite airline's website to search for tickets. I remembered a friend telling me to check international websites of airlines, sometimes offering better prices for the same flight. Lo and behold, this pricing inconsistency saved me $400 per ticket to Europe.
This kind of inconsistent pricing is not isolated to airline tickets or consumer purchases. In my last blog post, I spoke about the billions of dollars that semiconductor companies leave on the table every year due to ineffective opportunity-to-contract processes that erode average selling prices.
Inconsistent global pricing and poor price concession controls are two big culprits of this price erosion. Customer product pricing should be dictated by the specifics of the price agreement, quote or contract with the customer.  Whatever the price that was set, there's absolutely no reason that the price should change as it goes around the world.
Global price consistency means you have a price for a customer and that is their price.  It doesn't change when they go to Europe, it doesn't change when they go to Asia or the US.  Companies who don't have the tools and processes in place must rely on the discipline and best intentions of regional sales personnel in the organization.  However, with people in many different locations, it's very hard to achieve that consistency.  If you add up these inconsistencies, they usually equal quite a lot of money.
Toxic pricing is another practice that should be eliminated by every semiconductor manufacturer and, in doing so, can result in recouping millions of dollars.  Toxic pricing occurs when someone gives discounts they shouldn't.  An example would be giving preferential discounted pricing to poor performing customers.  Every manufacturer has different discounting thresholds.  Generally, the more proprietary the product, the tighter this threshold is.  Regardless if it's a proprietary or commodity product, there's usually a discounting bottom line that should not be crossed.  Deals that go beyond this bottom line are the outliers that should be scrutinized on a case-by-case basis.
Eradicating price erosion begins with a few basic steps. Consider these starting points::
Align resources – sales, sales operations, channels, marketing and pricing organizations need to function as a single team and work towards the same goal.  Success should be measured by a common list of attributes that is being tracked.
Measure and eliminate toxic pricing – Improving visibility and control into the discounting process will help you address these issues.  This involves the analysis of order and POS data and correlates it to the original contract for the end customer.  Going forward, controls will need to be in place so that unnecessary discounting cannot take place without proper approvals.
Business process and tools mapping – A robust price rule management tool can streamline business processes and enforce pricing consistency throughout all regions, speeding quote turnaround time and eliminate any price inconsistencies.
By using the right tools and processes, semiconductor manufacturers can eliminate toxic pricing and enforce global price management.  Interested in learning how you can quantify how much you are leaving on the table?  Sign up for a free  two-day value discovery workshop.
Stay tuned for my next installment in this series where I'll discuss the other issues causing revenue leakage.  Have a question about global price consistency or toxic pricing?  Join the discussion in the comments section.