Tactical KPI's — Three KPI's for Improving Efficiencies of your Contract Management Processes
As a General Counsel or Contract Manager, you understand that contracts are central to the operations, business strategy, and success of your organization. In addition to governance and control, contracts also represent revenue and business performance and contain insights that are crucial to minimize risk, maintain compliance, and set controls for enforcing contract obligations.
Contracting is complex, but it doesn't need to be. Processes can be streamlined when you develop the mechanisms to manage and measure contract performance throughout its lifecycle. It is not enough to measure contract performance against static terms and conditions, as contracts are living documents and should be measured against Key Performance Indicators (KPIs) as they remain in effect. By measuring against KPI's, you gain a deeper understanding of contract performance and the ability to take corrective measures.
Before measuring contract performance, you must define your KPI's.  Revitas has outlined a "Top 10" list of KPI's that are categorized into three primary ROI justification areas: Tactical, Performance, and Risk-based: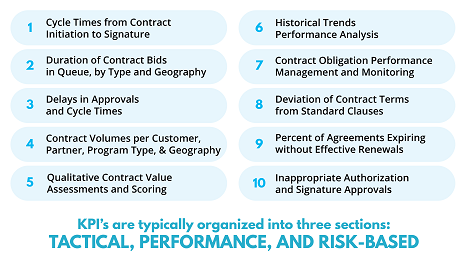 In this post, we discuss how to effectively measure contract performance against tactical KPI's. Tactical KPI's provide profound insight into contract execution processes and assist in ensuring the efficient managing of high volumes of contracts, meeting contract deadlines, milestones and more. Here are three very important tactical KPI's that you should consider when measuring your contracts:
Cycle Times from Contract Initiation to Signature. Measuring cycle times from contract initiation to actual signature helps to understand how quickly deals are closing, how business is growing and how to recognize revenue faster. Having the ability to quickly identify the status of the contract and monitor its progress enables the ability to track overall business performance at each stage resulting in closing deals faster and accelerating revenue. Instead of deals slipping into the next quarter, you are empowered to take corrective actions wile contracts are moving within their authoring and approval stages, meaning more revenues and happy sales teams.
Duration of Contract Bids in Queue, by Type and Geography. Lack of visibility is frustrating, especially when contracts are spread across divisions and/or geographies. When lack of visibility impedes on contract creation, monitoring and the ability to identify lost savings, loss due to non-compliance and other bottlenecks; action needs to be taken. Imagine having the ability to see where a contract is backlogged in real time. To be able to monitor and analyze a contract's status, by type, owner, and whether it's currently in review in your department, or sitting in an email inbox of another division or even geography. Historical trends can also inform you how and where to make the changes to improve the flow.
Delays in Approvals and Cycle Times. It is essential to ensure that the correct information is getting to the right stakeholders. Workflow automation adds controls and prevents routine contract issues. Instead of wondering whose inbox a contract is sitting in waiting for review, you can be alerted when a deadline is approaching, and take swift action to ensure the approval is moving in accordance to expectations.
Tactical KPI's provide profound insight and the results are specific, measurable and sustainable. In our latest whitepaper, "Actionable Analytics: The IT Factor for SMART Contract Lifecycle Management" we explore how you should monitor the contract lifecycle in order to make the most business impact and ROI.
Tactical KPI's is the first post in our three-part series of the Top 10 KPI's for effective CLM. Stay tuned for the next post in this series focusing on Performance Effectiveness KPI measurements.