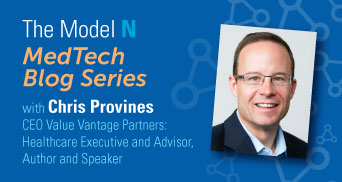 A couple of days ago, we hosted a webinar for emerging leaders in the MedTech space who are facing a very changing market landscape. With hospitals increasingly reducing costs, and MedTech companies becoming bigger through M&A activities, many of the mid-market companies are finding themselves in unchartered territories.
The webinar was led by Chris Provines, a recognized expert in the MedTech industry. With over twenty four experience in the Life Sciences industry, and having held senior executive roles at companies such as Johnson and Johnson and Siemens, Chris had a great perspective to share with the audience.
The key themes that were discussed in the webinar included
• Forces squeezing midmarket MedTech companies
• Evolving market players
• Key commercial and pricing strategies that can be taken by mid-market companies
MedTech Trends
When looking at the forces squeezing the mid-market companies, we explored the how the big companies are getting better, how the supply chain is evolving and how all of this is being affected with the buying behavior of customers that are changing.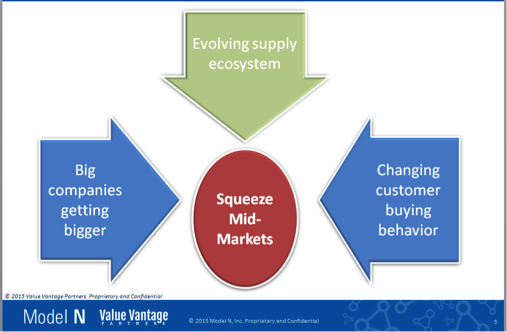 With regards to the buying behaviors of hospitals, we talked about how there is an increased trend towards a full capitation model. We also explored how Healthcare Reform is causing an increased drive towards highly integrated accountable care.
An increasing trend that we talked about was that about newer type of players entering the space putting incredible pressure on MedTech companies' pricing models. These include a spectrum of new models starting with pricing transparency providers such as SharedClarity and ProcuredHealth, extending all the way to informal regional buying groups.
The webinar also explored how the Supply ecosystem is changing. With situations where channel partners such as Cardinal Health are becoming competitors through the acquisition of Cordis from J&J to the changing role of the GPOs that are investing in new services and offerings, midmarket companies have to increasingly tread shifting sands.
Key Takeaways
Few of the key takeaways for MidMarket MedTech companies to combat these forces included
• Design Pricing Strategies to Break the Bundle
• Explore risk based contracting models
• Manage Pricing and Price Transparency
• Robustly manage your transactional pricing with rules & controls
• Prepare the sales team with pricing intelligence to handle buyer objections
• Develop Economic Value Story
For more detailed information, click here to view the webinar slides.