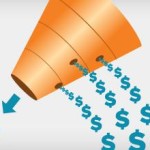 Congratulations to the semiconductor industry for a record sales year! The Semiconductor Industry Association recently announced that worldwide semiconductor sales for 2013 reached $305.6 billion, the industry's highest-ever annual total.
Before we relish the success of last year, semiconductor companies must ask themselves two questions:  How can we continue to improve sales (revenue)? And how can we keep more of what we've sold (margin)?
Studies show that for every $1B in sales, semiconductor and component companies lose as much as $50M annually to lost opportunities, poor volume and price compliance, channel over payments and other forms of price erosion. That means that these companies are potentially leaving up to $15 billion on the table each year.
McKinsey stated that the use of transactional pricing along with value based pricing can help drive revenue increases 2% to 7% for semiconductor companies. They describe transactional pricing as focusing on minimizing the leakage of revenue. This revenue leakage is caused by ineffective processes that are eroding average selling prices in the opportunity to contract process.
If you've read our recent #RevNews, you already know that price erosion is costing chip makers an average of 2.3% in gross margin. But there are other significant impacts to the bottom line as well:
•  9% loss because of unmet volume commitments
•  10% lower win rates due to lengthy deal cycles
•  10% overpayment due to errors in reconciling channel incentives
The issues causing this leakage are primarily inconsistent global pricing, poor price concession controls, channel incentives overpayment and unmet contractual volume commitments which are the result of inefficient and silo processes that do not provide visibility and control.
We live in a world where every penny counts. Companies spend enormous amounts of time and money trying to control manufacturing costs and increase their bottom line, only to negate that effort by unnecessary leakage like improperly discounting prices or overpaying channels.
In the next part of this blog, I will continue our discussion on revenue leakage and elaborate on the issues that are causing it. If there's a particular area of revenue leakage that you would like to hear more about, please let me know in the comments.
You can also learn more about revenue leakage in our upcoming webinar. You'll hear how semiconductor companies like Microchip and On Semiconductor have reduced revenue leakage in their sales cycles. Register here.