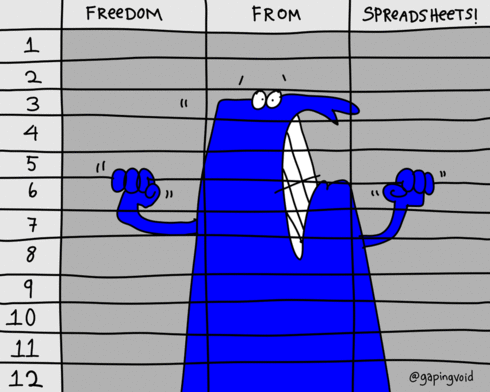 Lurking in your sales quoting process is the monster spreadsheet. It's big, cumbersome and sometimes unruly. You're team has been using this manual system to create quotes for so long now that it's hard to imagine doing it another way.
The Excel whiz that created your quoting spreadsheet system probably thinks it's like a hand-built Ferrari engine. He is proud of it, but it's admittedly complex. Of course this provides some job security because he is likely the only one who can maintain the monster. Your sales people may also be comfortable – very few people like change – even though the manual configure, price and quote process is time-draining and error-prone.
Maintaining the status quo, because your team is used to it, is not always what's best for your business. Despite being the industry standard for spreadsheets, Excel has clear drawbacks when it comes to creating sales quotes. There are some things Excel simply can't do for sales users.
1.Setting rules. Adding new rules can be a cumbersome process. The formulas and tables can be very confusing for someone who is not updating the spreadsheets daily. So, generally, a sales department relies on an Excel guru to administer the quoting system and maintain the rules. In many organizations it takes days and lots of testing to get new rules working correctly and to make sure the rest of the rules still work too.
2.Quote approval. A big pain point for many organizations is getting the quotes out the door. Because sales users need to gather information from disparate pricing sheets and input them into the quoting spreadsheets, the organization spends more time on quote approval. Did the rep use the latest pricing sheet? Did the rep correctly select the right combination of options and service plans? Is this a special price request that needs additional approvals? Manual quoting requires manual verification of accuracy and approvals that slow the process.
3.Scalability. As businesses grow, their product and service offerings grow with them. Thus, their quoting spreadsheets keep growing and growing. For complex products and recurring services, manual quoting eventually becomes impossible to sustain while delivering accurate quotes to prospects.
4.Maintenance. Relying on one Excel whiz to maintain your configure, price and quote spreadsheets is a disaster waiting to happen. If the whiz is unavailable or on vacation, then peers will likely struggle and may be unable to figure out the calculations or unlock the spreadsheet to make updates. There is also the risk that your organization may not be able to access your spreadsheets on shared network drives because they were accidentally deleted, not backed up, or the network drive was unavailable.
5.Real-time data. Another downside of the cumbersome, manual quoting process is that you can't see your sales funnel. Sales managers have little or no visibility into the history of quotes that reps or channel partners send to prospects or what's in the pipeline. Without some intense custom reporting and an individual dedicated to generating these reports on a regular schedule, you'll be hard pressed to link your quotes with an opportunity, so you can see value of your deals today.
We understand that sales organizations and administrators can view their Excel system as a security blanket of sorts. But it's this false sense of security that slows down your quoting process and puts deals at risk. Cloud-based CPQ software can liberate your sales team from the spreadsheet monster, so you can maximize the value of every sale, quickly.
Learn more about what you can do with automated CPQ solutions and how to capture more revenue faster.