By Jim Holland, Sr. Product Marketing Manager
As we all prepare for a new year and how it will impact growth in a digital economy, I reviewed IDC FutureScape: Worldwide CIO Agenda 2020 Predictions webinar hosted by Frank Gens to learn how forecast could influence revenue, true top line growth and margins.
Frank shared "by 2023, the global economy will reach digital supremacy. That is the point where products and services from digitally transformed enterprises will account for half of global GDP. Enterprises not able to compete in the digital portion of the economy will miss out on half of the opportunities in their core markets."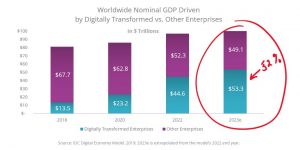 Image owned and used by courtesy of IDC.
The 10 key points that formulate this opportunity from IDC's 2020 IT predictions include:
Prediction 1: By 2023, over 50% of all ICT spending will be directly for digital transformation and innovation (up from 27% in 2018), growing at 17% CAGR (vs. -3.5% for the rest of ICT).
Prediction 2: By 2022, 70% of enterprises will integrate cloud management — across their public and private clouds — by deploying unified. Frank shared, "In the digital first economy, it's all about digital reach. A key part of a digital reach is all about managing silos."
Prediction 3: By 2023, over 50% of new enterprise IT infrastructure deployed will be at the edge rather than corporate data centers, up from less than 10% today; by 2024, the number of apps at the edge will increase 800%.
Prediction 4: Factories By 2025, nearly two-thirds of enterprises will be prolific software producers with code deployed daily, over 90% of new apps cloud native, 80% of code externally sourced and 1.6 times more developers.
Prediction 5: By 2023, over 500 million digital apps and services will be developed and deployed using cloud-native approaches, most of those targeted at industry specific digital transformation use cases.
Prediction 6: By 2025, at least 90% of new enterprise apps will embed AI; by 2024, over 50% of user interface interactions will use AI-enabled computer vision, speech, natural language processing and AR/VR. For this predictions, Frank also shared, "by 2025, AI powered enterprises will respond in half the time as the competitors."
Prediction 7: By 2023, 50% of the G2000 will name a Chief Trust Officer, who orchestrates trust across functions including security, finance, HR, risk, sales, production and legal.
Prediction 8: By 2023, 60% of the G2000 will have a digital developer ecosystem with thousands of developers; half of those enterprises will drive 20%+ of digital revenue through their digital ecosystem/platform
Prediction 9: By 2025, 20% of revenue growth will be from "white space" offerings that combine digital services from previously unlinked industries, and one-fifth of partners are from previously unlinked industries.
Prediction 10: By 2023, the Top 5 public cloud megaplatforms will consolidate at least 75% of market share; the Top 10 pureplay SaaS vendors will generate an average of near 20% revenue from expanding PaaS services
How can enterprise companies better compete in the digital economy? How can enterprise companies capitalize on more opportunities in their core markets? Model N has a strong opinion on digital transformations and the positive impact on revenue execution and topline growth they can have.
Going into 2020, Model N sees many opportunities driving enterprise company growth. The following are three are impacting revenue execution and the influence your companies opportunities can have in the digital economy.
Prediction 1: Modernization is key for Enterprise Revenue Management
In 2020 we'll see further advances in the modernization of revenue management. While we have seen tools gain more intelligence, most are still siloed and companies lack the ability to have full visibility and a true gross-to-net view. The modernization of revenue management will break these siloes, bringing fast and complete visibility into the entire process. Also, AI/ML will be built into modern revenue management tools leaving simple analytic tools behind. With AI, enterprise companies will be able to make faster, smarter, and better-informed business decisions.
Prediction 2: Revenue Management is a Single Continuum
In 2020  companies will actively look for ways to better manage revenue with an end-to-end, single continuum approach. With a vast stream of revenue transactions such as contracting, quoting, price setting, incentive program development and execution, collection and analysis of channel sales data, managing inventory and analyzing inventory. In the past, companies have pieced together ways to manage these processes but are starting to grow tired of these archaic and disorganized processes. We will start to see companies looking for a new approach to manage revenue in a more holistic way.
Prediction 3: Automation Drives Indirect Channel Explosion
With "75% of world trade flowing through indirect sales" as reported by World Trade Organization, companies will have no choice but to automate how they interact with channel partners. In 2020, companies will use cloud-based solutions to automate the vast amounts of global data to better understand the performance and contribution of the channel to revenue and the digital economy.
If the three Model N predictions resonate with you and you'd like to better understand how Model N can help you reach your 2020 revenue goals, go here. To listen to IDC's complete webinar, go here.