Will mid-sized MedTech companies be able to make it alone?
It's an interesting question. On the competitive front, it seems like there has been a constant stream of mergers and acquisitions in MedTech. In fact, by some estimates, M&A in MedTech was up 40% in 2014. Large deals like Medtronic and Covidien capture headlines, but there have been many other deals. These deals are being driven, in part, in response to customer consolidation and the need to build a strategic critical mass in hospital accounts.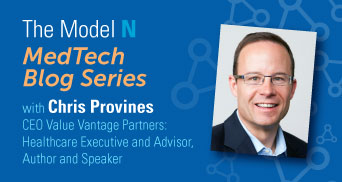 At the same time that many competitors are getting bigger, the MedTech supply ecosystem has gotten a lot more complex. The evolving buyer, new reimbursement schemes, transparency, and new disruptive competitors are just some of the changes. For mid-sized MedTech firms, this changing environment raises a lot of questions. What does it mean for mid-sized MedTech? Will they be squeezed out of the market?
Is Bigger Better?
Is bigger better? It's a good question. Given the volume of M&A activity last year, you could argue that many MedTech companies believe that combining forces is a good idea. They will gain more leverage with customers, take costs out, and also take advantage of purchasing trends. Hospitals have historically been under-managed from a supply management and procurement perspective. Much of this is changing.
As hospitals become more sophisticated in procurement and supply chain, one textbook supply management strategy that will be employed is to reduce the number of suppliers and develop more strategic relationships with SELECT SUPPLIERS. The MedTech mergers are a way to take advantage of this. The greater amount of supply leverage also, presumably, allows these larger MedTech companies to bundle across product lines to create more stickiness in accounts, and erect barriers for competitors.
Low-cost Competitors
At the same time that many competitors are getting bigger, a new group of low-cost competitors are emerging to disrupt many supply categories. Generic device manufacturers, group purchasing organization (GPO) private label brands, and distributor brands will disrupt many categories. As an example of this trend, Cardinal Health recently announced that it is buying Cordis, a supplier of vascular devices. Cardinal also stated that it would look to do more acquisitions to build its product business.
GPO private label supply items, distributor brands, and generic device suppliers have the potential to disrupt many product categories. This is especially true for supply items at or reaching the mature stage of the product lifecycle. If you think this is an exaggeration, consider that Premier's product business grew 41% for the six months ended December 31, 2014.
Changing Healthcare System and Buying
Many of the competitive landscape changes mention above are being driven by the changes to the healthcare system. Up until recently, the MedTech market has been a relatively steady and a highly profitable market. Many of the changes to the reimbursement and healthcare landscape are disrupting the old model. The evolution of the supply market is being driven these key forces:
Reimbursement cuts
Hospital consolidation
Movement to pay-for-performance and population health reimbursement schemes
Growing transparency
Physician employment trends
Call to Action for Mid-Sized MedTech
The net result of all of the changes to the competitive landscape and the healthcare market mean that companies stuck in the middle – the mid-sized MedTech firms – could be squeezed. Low-cost competitors are disrupting more mature supply categories from the bottom. This is creating significant pricing pressure.
Large competitors are getting larger, and trying to build strategic relationships with customers. These large companies will also try to create "moats" around accounts through product bundles and services. This will make penetrating accounts more difficult for smaller firms. Finally, buyers are becoming more sophisticated, leveraging transparency, and demanding more evidence of value.
Will mid-sized MedTech be squeezed? How can these firms respond? What are some commercial levers and actions to take? These are interesting times in healthcare and MedTech. For mid-sized MedTech companies, not being prepared to deal with this change in the competitive landscape and market will surely result in lower margins, lost sales opportunities, and frustrated salespeople.
To discuss these and more, join me in the upcoming webinar titled Survive and Thrive in the Changing Healthcare Market hosted by Model N, on April 1st at 11am PT/2pm ET. In this webinar, we will discuss the changing supply landscape, the evolving healthcare market, and offer four strategic actions mid-sized MedTech companies can take to avoid the "squeeze" and thrive in the changing market.