By Jim Holland, Sr. Product Marketing Manager
For companies with large indirect channels, the word partner has moved from a term to something critical. Quite simply, companies who work to better understand the needs of their partners and answers those needs will be many of the successful ones in the future.
What can vendors do to better understand partner needs and what are smart vendors doing to respond? How can you build stronger and more successful sales and marketing strategies with partners?
Join Channel Focus as they host Chanan Greenberg, SVP & GM High Tech, Dan Overgaag, Managing Director at The Spur Group, Mike Moore, VP of Channels for E2Open and Sal Patalano, Chief Revenue Officer at MindMatrix as they share real examples and strategies that vendors can use to maintain better partners.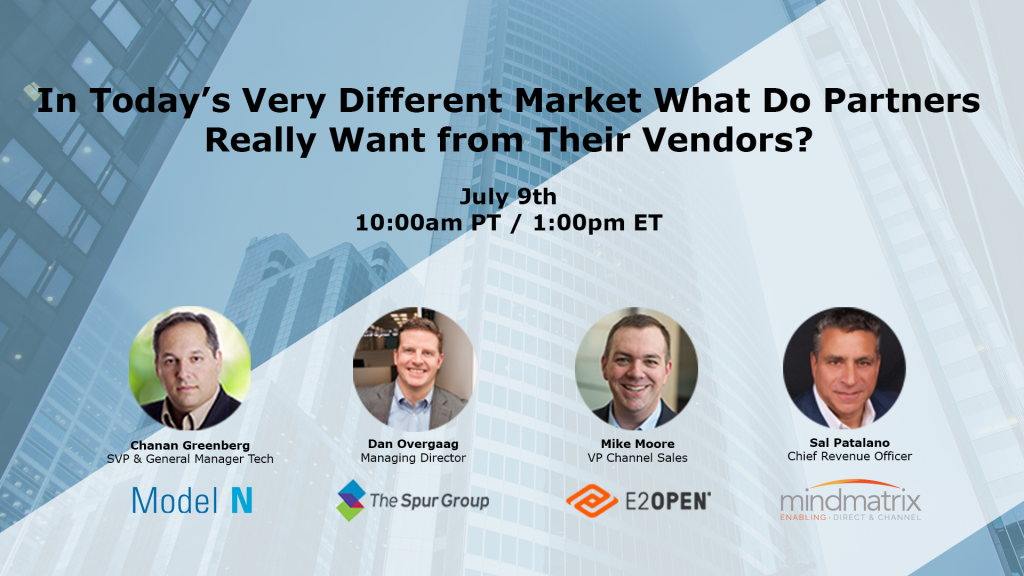 In this webinar, you will hear our panelists discuss:
What are partners asking for and why?
What are smart vendors doing to respond to these requests?
How do you enable your partners to build effective sales and marketing strategies in today's very different market?
How are successful vendors changing and evolving their offerings to meet the very different needs of their partners today?
To register for this no-cost webinar, go here. To learn more about how Model N addresses the challenges of today's partner channels, go here.