Heading into the final months of 2018, most Channel Chiefs are focused on bringing in strong revenue from their indirect sales channel while looking toward a new year. Loaded with new year's revenue goals and partner expectations from executive leadership and boards, Channel Chiefs are facing new threats with industry competition, tariff impact and go-to-market pressures driven by new geography-based opportunities and online consumers as shared by David Johnson in a recent post.
Channel Chiefs are optimistic, even in the face of unprecedented disruption. In a recent conversation with a Channel Chief of a global high-tech company, he shared, "If 80% of my indirect sales channel can land 3 deals in the first six months of the year, we will be doing well."
Additionally, in recent research published in the 2112 Group's Channel Chief Outlook: 2018, "Channel chiefs expect to increase sales by at least 20% or more. Nearly one-third of channel chiefs see partners increasing their sales productivity by 26 percent or better.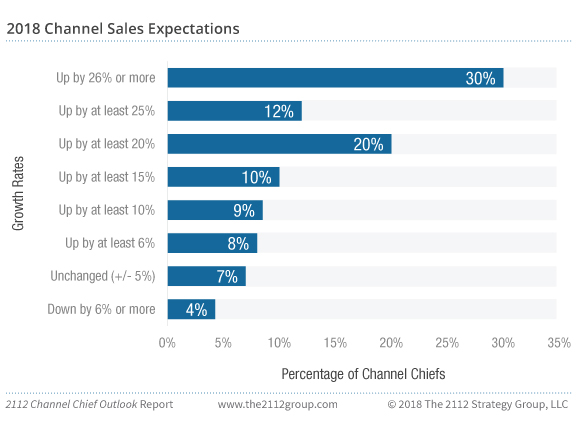 With this optimism, Channel Chiefs and their companies have added global indirect sales partners at a consistent rate. Model N's internal analysis has shown many of our high tech, semiconductor, and electronic component manufacturing (ECM) customers have increased indirect sales reporting across the board. In one case, a semiconductor customer has grown by more than 31% this year.
While there's no crystal ball for the new year, Channel Chiefs can maximize revenue at every turn and decrease complexity in their channel by digitally transforming how they manage indirect sales.  This happens with consistent sales and marketing strategies, actively measuring indirect sales success and understanding where the channel is succeeding or challenged with smarter analytics.
To learn more about how Model N is helping its customers reinvent their channel strategy go here.
Sources: 2112 Group – Used by permission.