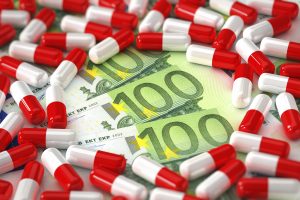 Revenue erosion causes pharmaceutical and medical device companies to lose nearly 4.4% of overall revenue annually. That's more than $11 billion a year across the industry, according to IDC. What's behind such rampant revenue leakage? This infographic illustrates the many blind spots that lead to revenue erosion.
Double-dipping on rebates, out-of-guideline pricing, customers with no contract getting contract pricing, customers who don't meet volume commitments  but still get the volume discount—these are all common culprits.
Pharma and medical technology companies face complex discounting and contracting schemes that make it very difficult to gain a holistic view of gross-to-net sale adjustments and margins by product, segments, geographies etc. They simply do not have adequate Revenue Management systems that can help with this task. In fact, a whopping 90% report they have no contract visibility or forecasting tools.
Without the right systems and processes in place to manage revenue, you're hurting your top line. Consider the following three areas where you can improve and attain better visibility and control.
Contracts and Pricing Guidelines
Success hinges on maximizing value of your product at each stage of its lifecycle. This means pharma companies need to carefully plan and execute price negotiations and account for variables at the global geographic level and the local contracts and tenders level. Organizations need clear pricing guidelines and approval escalation processes so that out of guideline pricing does not get approved without appropriate oversight.
Rebates and Discounts
Rebates and discounts are widely used with distributors and payers for cost-containment and are often viewed as an alternative to decreasing list prices. While back-end discounts ensure that you pay only for demonstrated performance, they also can be a significant source of revenue leakage.
Half of pharma companies self-report that they are under-equipped to enforce global pricing and discounting strategies. In order to attain better visibility and control of the discounts paid out to customers, you need to unify the view of upfront discounts with back-end rebates. A few key points to address include:
•  Ensure customers that don't meet their performance commitments don't continue to get pre-negotiated discounts indefinitely
•  Calculate and pay chargebacks/distributor rebates on time before wholesalers automatically deduct very often the wrong amount
•  Pay rebates based on accurate and clean sales and utilization data
Ultimately, you need to understand performance of these incentive programs and accurately measure customer compliance.
Automate Processes
The creation of pricing, negotiation and management of contracts, and the execution of incentive programs are vital to corporate revenue. Yet most life sciences companies suffer from disjointed processes and systems spread across multiple departments that trigger poor hand-offs and erode revenue.
It's the last bastion of spreadsheet automation and manual integration and pharma and medical technology companies can no longer afford to manually manage sales and revenue. You must automate pricing and discounting on a global scale with systems that are purpose-built for complex contracting and discounting arrangements.
At the end of the day, life sciences companies need to stem the flow of revenue leakage. You need to see clearly which products and customers are most profitable so that the right strategies can be applied to maximize margins.
Watch this video for more insight on Revenue Management and how you can easily execute effective pricing strategies to eliminate revenue erosion.