By Jim Holland, Sr. Product Marketing Manager
Enterprise business models and sales strategies have become more and more complex in response to dynamic market conditions. Through this rapid evolution, organizations have discovered there is a siloed chasm between ERP and CRM that needs to be addressed.
Many organizations use reactionary methods to respond. With complex product catalogs managed in spreadsheets, legacy applications, or point commercial solutions, this adds to the complexity of sensible pricing strategies.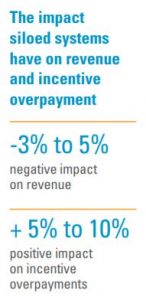 Managing the processes that impact pricing and revenue in silos with different tools invariably leaves money on the table and makes it impossible to proactively optimize upfront discounts with performance based incentives while simultaneously eliminating over payments.
This typically constitutes a negative impact of 3% to 5% on topline revenue and 5% to 10% on incentive over payments. They have been left with a hodgepodge of spreadsheets, contract documents, point solutions, complex processes, and teams of people trying to meet the unfulfilled revenue execution void left between their ERP and CRM.
What steps can your organization use to maximize revenue more quickly as you grow? To find out more about Model N Revenue Cloud and how to maximize your review, use this link.