Jim Holland, Sr. Product Marketing Manager
Every high tech manufacturer knows how important their channel partners are, but are you doing everything to truly understand the revenue impact to your business?  
The challenge is finding the time and gold nuggets of channel performance indicators while manually laboring through incomplete data and time intensive custom reports.  
So, what are the hidden nuggets and what quick wins can high tech companies introduce to accelerate revenue and channel success? 
Below are three tips to consider maximizing your top–line growth through the channel. 
Know Which Channel Partners Are Winning
Understanding who your top performing partners are, and when they're winning and losing in certain markets, can be difficult. Automating data collection and analytics is key to improving visibility and business intelligence so you can make strategic decisions when market factors shift.  
Fully automating the interchange of partner data is your best approach to achieve complete visibility across every revenue transaction in your channel sales process. Internal resources will be freed from manual processes allowing them to shift their focus, from data management and issue resolution, to business intelligence analytics and relationship management. A single source of truth across your entire channel performance provides you with a holistic view of wins, and areas requiring attention, globally. We often see cases where high tech organizations can decrease partner management operating costs by up to 70% through this type of automation.   
Know What Products Are Winning
With increasing innovation and new product launches happening almost daily, knowing what products sell in Hong Kong, Charlotte, Berlin, and San Jose are critical to your top-line revenue growth as well as channel partner health. Complete insights into global product success, product mix, product inventory, and revenue success are key. To achieve this, you need intelligence insights into product and product family performance.  
Commonly, companies will implement a series of short term solutions by cobbling together a number of disparate data sources and reports manually collected from partners, product inventories, sales data, marketing data, financial data, and other lines of business. However, this approach often uses siloed and possibly inaccurate data from different points in time requiring internal resources to scrub and standardize information before any intelligence can be gained—again, a huge time suck and an approach rife with areas of inconsistency and inaccuracy.  
Using a solution fully integrated with your channel partner data allows you to have current and complete global product data and analytics at your fingertips. Taking it a step further, utilizing cloud-based technology and automation, organizations have near real-time insights to anticipate shifts in channel business and ever-changing global markets. Actionable channel insights delivered via modern analytics and dashboards to evaluate channel performance were once a thing of the future, but now are critical for navigating the road ahead.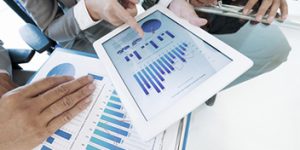 Know What Your Competition Is Selling in The Channel
Where's the best place to gain competitive information on what your competition is selling? Anecdotal feedback from your sales and marketing teams or other sources is important, but do you have current data driven intelligence, trends, and forecasts on how well your products are competing, or expected to perform, in different geographies? To address this, you need automated and actionable intelligence to understand when and how you are beating the competition.  
Often, high tech companies are scouring the internet for information and trying to match where the channel is selling the products. We've said it before, but automation is key in order to get the most from your data.  
Three Quick, But Impactful Wins to Your Bottom Line
By implementing these strategies you're sure to achieve three quick wins in these key areas:
B

oost your channel sales revenue

D

ecrease operating costs through automation

Achieve transparency across your channel performance

with accurate and complete data

,

allowing you

drive business

decisions

, set strategic priorities,

and forecast

with confidence. 
The right partner can help you automate, organize, validate and enrich your channel data and management with a click of a button.  
Set up a quick demo with Model N experts, and start maximizing your channel revenue today! Contact Model N