I have to be honest, my head's still spinning a little after spending an afternoon with Chris Provines of Value Vantage Partners, Jim Walker of Jim Walker & Associates, and an engaging group of participants at Model N's MedTech Trailblazer event, including: Johnson & Johnson, Convatec, Philips Healthcare, ONEighty C Technologies, GHX, ValueCentric, and Deloitte Consulting. Model N's MedTech Innovation Forum was created to help our customers, prospects and partners learn from and interact with each other and with industry thought leaders. There were great conversations and takeaways.
Key Takeaways from the Experts
What we learned is that buyer sophistication is at an all-time high and improving while supplier confidence and trust is stretched thin and declining. Why? Manufacturers are not investing in the processes and tools to generate data that helps foster and establish solid relationships based on trust. At the same time providers are investing in big data solutions, external tools and consultants to improve their pricing and value transparency in order to drive down costs and improve outcomes.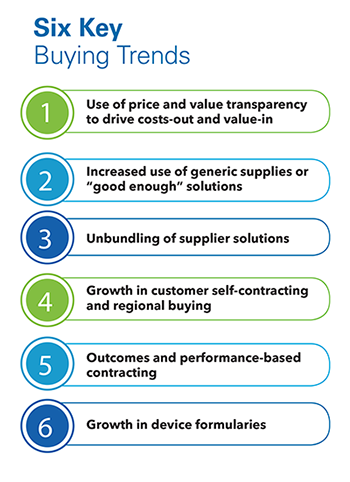 Buyer Trends – Reshaping MedTech Selling and Pricing
In our first session, Chris dove into the research and results behind the Six Key Buyer Trends survey. Goods and services are the fastest growing expense for most hospitals, already accounting for a third of the entire cost structure and tracking to overtake wages and salaries. These trends all have one thing in common: buyers are getting smarter and this leads to modifications in their sourcing strategies. They are getting and using actionable data to drive these changes.
This includes how to measure value. Everyone is looking for and talking about value, but value may be hard to define. If it isn't directly tied to cost savings or ROI, then value stalls. A leading heart valve manufacturer echoed this recently when they said that being the clinical leader alone is not enough to overcome pricing pressures in value discussions.
Those pressures come from pricing transparency. The results of our recent survey indicate that over 90% of respondents believe transparency will have an impact on price erosion within 3 years and that impact will continue to grow over time.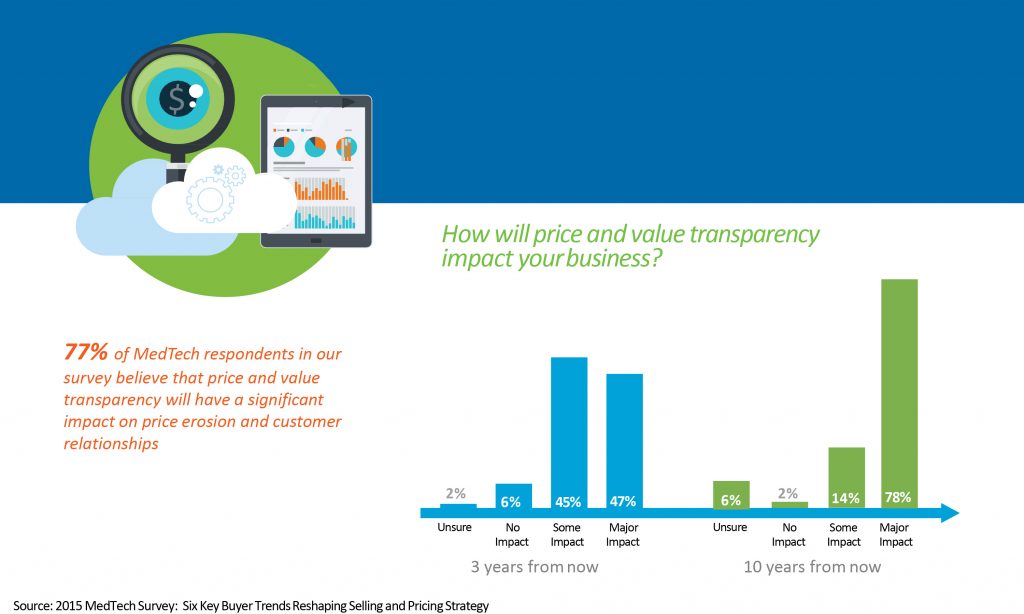 Another trend discussed was unbundling of services or other components – to drive down costs. A practical example of this is 'rep-less' medical sales, including removing reps from the OR. Will it lower costs by avoiding upselling by reps? Many think it may. But at what cost to the patient? Maybe there is a better way to control costs and not go rep-less and maybe that starts up front in the negotiation and contracting discussions…
Candid Conversations about Revenue Management
Jim, a 35 year veteran in this industry and with a direct style all his own, took on that question. As he put it, would you want to show up in the ER with a spinal injury at 2am on Sunday morning and be treated by the covering physician, who specializes in who knows what, without any support from a product expert that can advise them on the proper instruments and process to treat you?
The sales rep adds value by ensuring expert service and a successful outcome for the patient. They are critical partners for the hospital. Is that message being articulated? Is it backed up with data? One study mentioned by Mr. Walker indicated that when it comes to contracting, 93% of respondents did not consider value-add in their proposals at all. In this example, the contracting could include an upsell ceiling of 5% and anything beyond that in the procedure the hospital does not overpay. So the value of the rep is retained while the hospital cost is contained.
As we discussed, pricing transparency is a very real threat to the revenues of MedTech manufacturers. Beyond just consolidation, physician employment, and centralized procurement, other realities are entering the market such as cloud-based applications whose goal is to drive down hospital costs. For example, we discussed BroadJump LLC. According to their website, they were "founded on the premise that hospitals overpay for supplies and medical devices due to a lack of pricing transparency".
So what does having the good data do exactly? Let's take a scenario discussed in our forum:
Acme Mfr's ASPs have been declining at Noway Hospital and they need to take a price increase.

As an Acme rep, how are you going to sell that to Noway?

Maybe you could create new pricing targets and tiers in exchange for business growth
Or, segment the pricing based on technology or by creating a cross-divisional strategy
One suggestion was to share comparable customer pricing, volume, and share data
All of these approaches require good data to help educate Noway on why the increase is justified and to avoid damaging the relationship.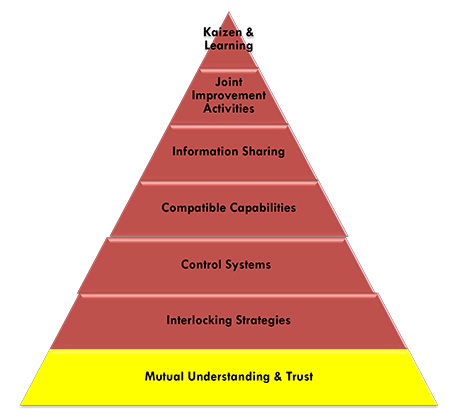 The key takeaway from our discussion relates to the supplier partnering hierarchy created by Toyota. Different industry, but same truths hold. The basis for for a healthy buyer-supplier relationship is one that is built on understanding and trust. One of the best ways to build trust is do so by sharing data that backs up your position.
In the example above, showing Noway Hospital what the value of their business means to Acme, or how they perform in compliance to agreed pricing terms compared to like-customers, who may be getting lower prices, can replace emotion and speculation with facts and figures.
Providing Insights to the Front Office
At Model N, we recognize that the need for good data in the opportunity-to-contract process starts with the quote. We've been serving the MedTech industry for over 15 years in the back office with applications to facilitate contract management, pricing tier compliance and rebate/fee calculation. In our efforts to support our customers and further serve the industry, we've begun to use this valuable data to drive insights to the front office to facilitate quality quoting.
One of our latest products, Revvy CPQ (Configure Price Quote) for MedTech, does exactly this. Although powerful in its own right, for example with complex product configurations managed in SAP Variant Configurator being synced with the press of a button, we recognize that putting contracting, pricing, and compliance data in the hands of the reps will enable them to spend more time selling, increase the value of deals with guided selling and win more deals.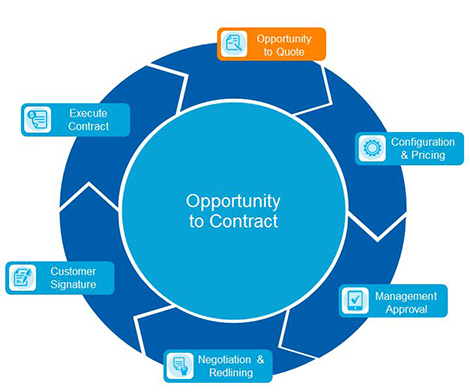 What's Next?
The changing landscape for MedTech manufacturers appears to just be starting. Buyer sophistication, outcomes and value based contracting or risk sharing agreements, and a growth in device formularies are just a few challenges you are or will be facing. Turning those challenges into opportunities by pairing the right tools, data and processes to build strong relationships with your customers will be a key to that transition.
To reach the author please contact Nate Taninecz via nate@modeln.com
For more information on Value Vantage Partners please contact Chris Provines via chris@value-vantage.com
For more information on Jim Walker and Associates please contact Jim Walker via jim.walker499@gmail.com
For more information on Model N, please visit us at modeln.com