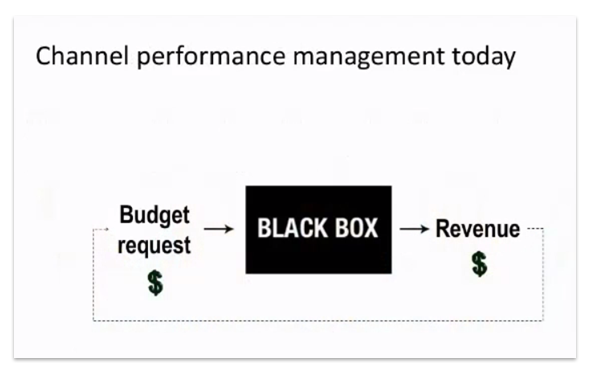 If you are a chief channel executive in the tech industry, there is a good chance that your visibility into the complexities of channel programs is limited. This was the main topic of discussion by Forrester's Tim Harmon during the Model N webinar titled "Optimizing Channel ROI: Breaking Down Walls". Tim brought excellent insights to help untangle the channel visibility problems.
Forrester's conversations with channel chiefs and channel executives in tech, telecom, and other B2B verticals have revealed that their number one concern is channel ROI. Channel organizations are coming under increased scrutiny, and the pressure to provide full transparency into channel activities is growing.
Unfortunately, the channel suffers from "black holes" of visibility. Once resources are handed off to the various parts of the channel, it can be extremely difficult to gain insight into the finer details of how those resources are used. Most channel executives can easily articulate broad channel ROI. It is easy to say how much budget is invested into the channel and how much revenue is generated from the channel as a result. But in between budget and revenue lies a "black box" of individual partners and programs, all with their own behaviors and results. What happens inside of that black box?
Inside the black box are numerous channel programs, such as through-channel marketing, MDF, and incentive programs. In many organizations, channel programs are viewed and implemented as individual silos, standalone programs and systems with the assumption that they have no relation to each other. In reality, channel programs are not silos – they work together to either create an excellent ROI or fail to live up to their potential.
So, how can an organization make sense of the grand aggregate of individual channel programs and maximize their potential value? The answer is a sophisticated channel data management solution. Every piece of the channel has its own quirks and necessities. With accurate and timely data, the individual characteristics that lead to great results (such as number of deals registered, deal close time, and average deal size) can be incentivized, ensuring that every piece of the channel performs at the optimum level. When all of the small parts live up to their potential, the big picture becomes a greater success.
How do organizations achieve this vision? Here are Tim Harmon's suggestions:
Get Channel Management Savvy. Channel chiefs need to become familiar with the technology that makes their efforts work. Become an expert on the systems you use (or at least understand what they do).
Incentivisation→Measurement→ROI. Incentivize behaviors, not just results. Identify the channel partner actions that lead to higher ROI for your organization and make sure that your partners are inspired to perform those actions.
Use key channel performance ratios to gauge channel performance effectiveness. Identify the most useful KPIs for measuring channel effectiveness at your organization (examples are sales growth, fulfillment by units and dollars sold, and average sales order price). Define program KPIs upfront and determine which are the best indicators of program effectiveness.
To learn more about maximizing your channel ROI, watch the recording of "Optimizing Channel ROI: Breaking Down Walls," our webinar with Tim Harmon.