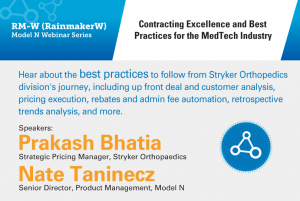 In a recent webinar, Prakash Bhatia, Stryker Orthopaedics' Strategic Pricing Manager, along with Nate Taninecz , Model N's Senior Director, Product Management, discussed the best practices for pricing in the changing MedTech Industry.
The MedTech market is shifting with the impact of healthcare reform, GPOs and 3rd party consultants, and less physician influence. These trends have a large impact on the market including more price transparency, bundled payments for care improvement initiative, price demands, consultants movement, and increasing data analytical sophistication.
Contract negotiations are now more complicated because hospitals are more informed and demanding and therefore the use of negotiation strategies and tactics can get even more complicated.  This webinar details trends in the market, best practices in contracting, and the Model N perspective.
Key Takeaways
In this webinar, you learn the five key areas in a pricing structure:
Pricing Governance: policies, committee
Deal Analysis: scenarios, playbook, compliance check
Competitive Analysis: VOC, surveys, hospital usage
Price Model: logic, controls, education
Reporting: actual vs. projected, customer profitability waterfall
The webinar goes into detail about the best practices in contracting which include the ability to:
Anticipate: benchmark the deal, identify buyer strategy, predict tactics
Plan: identify leverage points, develop counter-sourcing plan, prepare negotiation toolkit
Negotiation: review the customer playbook, confirm buyer strategy, execute customer moves
Renew: identify leverage gaps, plan to close gaps, reinforce strengths
The industry is evolving with providers under pressure, market consolidation, and changing buying patterns.  Because of these significant changes, the margin pressures cause companies to lose 4.4% of revenue annually, and sales reps spend 40% less of their time selling. Model N's Revenue Management Cloud solutions enable an end-to-end process aligning pricing, quoting, contracts, settlements, and analytics.  Learn more about how Model N can help you maximize deal value with pricing intelligence, maximize your number of opportunities with better sales execution, and maximize your sell time.
Watch the webinar on demand here.
Download the webinar slides here
For more information, please visit modeln.com/solutions/medical-technology/.