In Model N's 2019 State of Revenue Report, Model N commissioned ReRez Research, to field a survey of 300 C-level executives.  The goals of the survey were to provide clear and concise insight into the primary factors that impact revenue. From the High Tech and Semiconductor companies surveyed, the three most important factors in their enterprises included; profit, margin and customers.
For top-tier high tech and semiconductor companies with indirect channels, the survey found when organizations improved their management of channel data, they were able to improve profit, margins and better understand customers and market trends.
The top response's included:
Automating and centralizing channel sales data also known as POS data
Eliminating human error and the amount of time focused on resolution
Improving data quality and granularity
More-timely insights into market conditions
Having detailed channel data allowed top-tier organizations to proactively identify and solve issues before they become critical. Notably, top-tier organizations are four times more likely to be doing well with highly-automated POS and inventory data. Without proper management, this data can become unwieldy. The data allows organizations to seamlessly match partner data against their internal master data, avoiding confusion or mismatch errors.
With daily access to accurate sales data, executives can analyze market conditions and quickly make strategic decisions around product inventory, pricing, and incentives.  They are also able to match actual sales to contracted volumes and incentives, allowing them to dramatically reduce revenue leakage.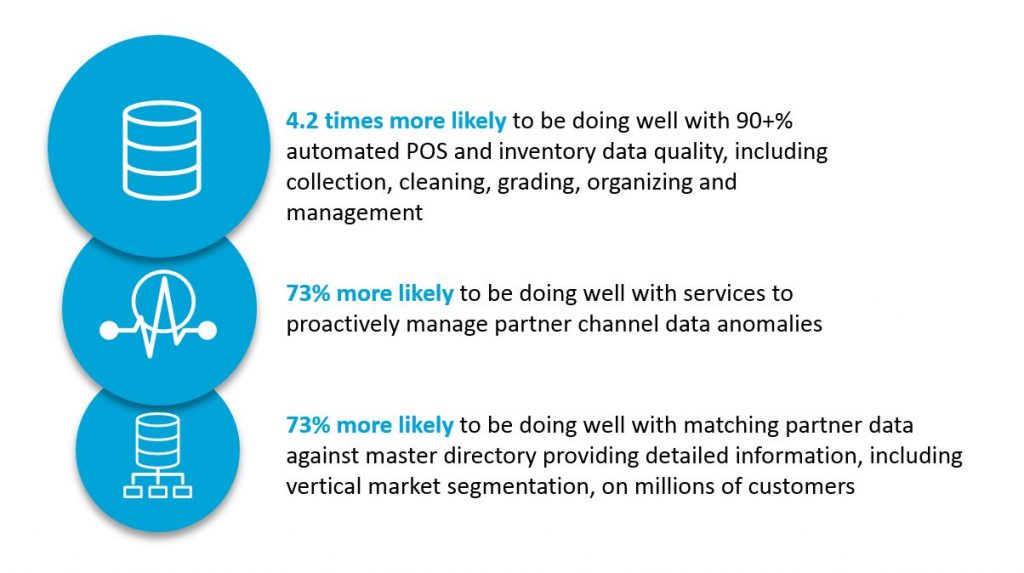 What is the result of automating channel data and partners in top-tier companies?
From survey results, top-tier companies are doing well in automating POS and inventory data, proactively managing anomalies in the channel and integrating partner data for use in market segmentation and other areas.
The survey also identified additional crucial trends surrounding revenue management for high-tech and semiconductor organizations.
So what steps can your organization take to improve your ability to maximize profitable revenue?
To find out, read Model N's 2019 State of Revenue report, use this link. To learn if you're a top-tier performer with your channel and how Model N can help, go here.