While semiconductor revenues are hitting new records, manufacturers are seeking new ways to infuse their technology into new markets. With new channels and partners, manufacturers are having a hard time keeping up with the amount of data surrounding the channel and its activities.
The 2018 edition of the Technology Vision, based on a year-long research effort from Accenture surveyed nearly 6,400 executives around the world providing key insights shared in Five Accenture Technology Vision trends highlights. One of the five trends focuses on data veracity.
What is data veracity? According to GutCheck, "Data veracity is how accurate or truthful a data set may be. More specifically, when it comes to accuracy of data, it's not just the quality of the data itself but how trustworthy the data source, type, and processing of it is."
GutCheck continues, "As businesses invest in technologies with intensive data demands (such as AI and edge computing), ensuring data veracity—the truthfulness of the data driving decisions—becomes critically important. In fact, more than eight in 10 semiconductor executives said the importance of data integrity will grow exponentially as organizations rely on data-driven decisions. But 73% of semiconductor executives believe that many companies have not yet invested in the capabilities to verify the truth within the data used in their most critical systems."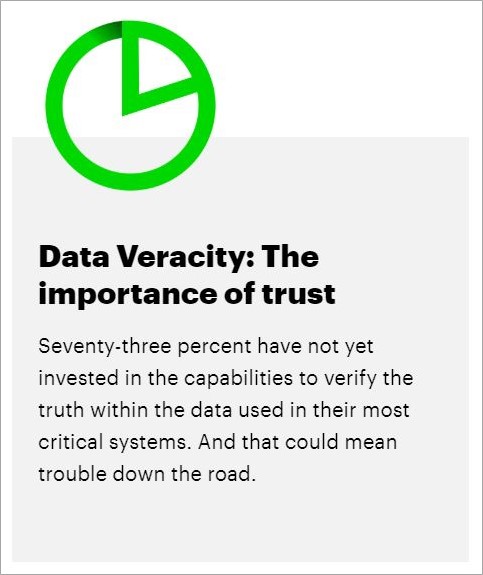 The truth is, if your organization has unverified, inaccurate or manually manipulated data from the channel, this undermines the real insights your company needs to plan, run, and grow your channel.
The Five Accenture Technology Vision results also share, "Semiconductor companies are particularly vulnerable – 90% of them in our research are boosting their use of data to drive and automate decision-making."
Last year, Model N conducted an internal review of 5 million channel data records from 10 companies in various industries with a focus on Semiconductor. Our automated analysis found 88% of the channel data was unusable, inaccurate and totally untrustworthy. Too often I see a lack of a data veracity in the channel as an imperative to confirm growth and insights into markets.
At Model N we recognize the need and urgency for accuracy in data, especially as it relates to your channel. If you'd like to learn how you can improve the data veracity in your organization, click here.