By Jim Holland, Sr. Product Marketing Manager
What happens when you get two experienced industry leaders together to discuss findings in a recent survey of 306 C-level executives? You get insights, conversations and opinions as well as some great advice.
Chanan Greenberg, SVP and GM High Tech at Model N and  Syed Alam, Managing Director and Senior Partner, Accenture recently got together to review and present key findings from the 2020 State of Revenue Report and discuss how are executives dealing with revenue management and how can they can improve.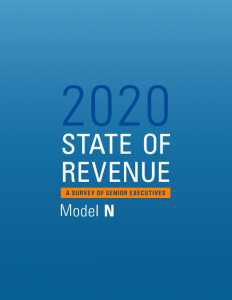 When the survey asked, What effort is needed to deliver effective revenue management in recent years, 82% of executives say it's become more difficult. Responding to these findings, our presenters offered the following:
"There are a variety of macro trends that include, the buying journey for customers has morphed in an accelerated way in the last five years, buyers are more self-educated, and their points of interaction are focused on service. By the time buyers are ready to engage, they are ready to interact and the speed of business picked up" Chanan shared.
Syed responded, "There are several things driving the market. First, companies are driving more revenue through channels. Some companies that haven't been used to working through channels or distributors are getting more revenue and not used to managing them. That is adding to the complexity. Second, as companies diversify their portfolio, they are getting into newer businesses or new segments, and they are used to what's driving the segment revenue. They are having issues managing tier 1 and tier 2 suppliers and learning how to manage those suppliers also."
If you missed the discussion or would like to her the complete discussion, don't worry. The webinar replay and full report are available at no cost. For the webinar, go here. For the full 2020 report, click the link.